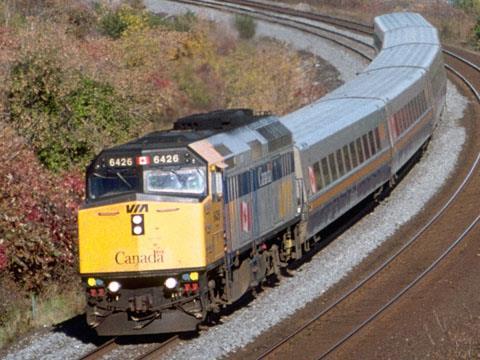 CANADA: Inter-city and long-distance passenger trains are to benefit from a C$691·9m funding package unveiled on October 11.
Hon Lawrence Cannon, Minister of Transport, Infrastructure & Communities, said 'we are launching the largest capital program in VIA Rail's history'. The five-year package will ensure that VIA's 'current network and service levels are sustainable into the future', the ministry said.
About 75% of the money will be allocated to rolling stock refurbishment, station modernisation and infrastructure improvements. VIA's fleet of F40 diesel locomotives will be rebuilt to improve fuel efficiency and reduce emissions, and the LRC cars used on short-distance inter-city services will be refurbished with new interiors. Infrastructure work will alleviate bottlenecks and raise capacity in the Québec – Windsor corridor, leading to better performance and shorter journey times.
The package includes C$175·9m of grant towards operations over the next five years, but this will cease once the capital spend has been completed as maintenance costs will be lower. VIA carries around four million passengers a year.