CZECH REPUBLIC: Meeting the requirements of EU legislation whilst continuing to develop passenger and freight operations across the Czech Republic is a tough task. Nick Kingsley met Vojtech Kocourek, Minister with responsibility for railways, in Praha to discuss railway restructuring, the future of regional lines and relations with Brussels.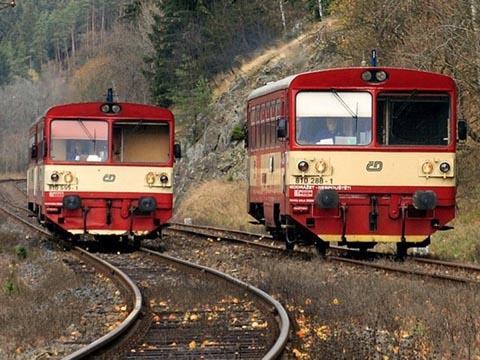 What is the financial position of the Czech railways in terms of profitability and subsidy profile?
The present position needs to be understood in the context of two organisations: infrastructure manager SZDC, which is funded via track access charges and from the state budget, and CD, the joint stock company that operates passenger and freight services.
At CD, for the first time since the start of the railway restructuring process in 1997, we have achieved a positive financial result for the year to January 2008. The business recorded an overall operating profit of KC53m, but the problem is that we have an imbalance in the financial performance between the different divisions.
For example, freight transport is largely responsible for the positive result, but the passenger business still needs significant public subsidy to operate services deemed to be socially necessary. In this financial year, we expect that the central government will contribute around KC4·5bn to fund these, with a further KC3·5bn coming from the regions.
The other basic problem facing CD is that it has a large amount of essentially obsolete rolling stock. We are trying to overcome this through an extensive refurbishment programme, which will continue through to 2020. We are also keen to develop a strategy beyond then; because investment in vehicles was neglected for so many decades, the problems cannot be rectified in just four or five years. In the medium term, we intend to purchase more Class 814/914 Regionova DMUs (RG 7.06 p387) and Class 471 ?CityElefant EMUs for Praha suburban services.
How is the project to restructure CD into a holding company progressing? When will the passenger operation be established as a stand-alone business?
Allow me to modify slightly this question to clarify how we have structured the industry. We have separated out the infrastructure manager as a totally independent arm of the state. We are therefore one of few EU member states to guarantee totally free, independent and undiscriminatory access to the network. Within that framework, CD is just one of several operators to use it. Under the final phase of the restructuring we intend to establish CD as a holding company.
To enable this to take place, CD Cargo was restructured as an independent freight operator on December 1 2007 (RG 12.07 p745). On my desk we have the documentation preparing the separation of CD's passenger operations, which will be presented to parliament for final approval later this year. At the present time, the state remains the sole shareholder in the CD passenger business, but that could change in the future depending on the government approving the restructuring programme. The government has insisted that we must not make any changes to the structure of CD that would preclude the entry of private capital into the group at some later date.
What is the future for regional and rural rail services in the Czech Republic? Are there any plans to offer concessions to new operators, as has happened in Poland, or to reduce these services, as is happening in Hungary??
To be frank, regional services are one big problem. But it is not just a problem for us in the Czech Republic, there are many countries — some with more developed economies than ourselves — facing the same challenge of how best to support and manage regional and rural railways, and they haven't found the right answer yet either.
We realise that any measures must be carefully thought through, not least because any measures to reduce regional services could prove to be a mistake in the longer term. So we are investigating how best to manage the operations and the infrastructure, and in particular how to find an appropriate signalling system for lightly-used lines. But of course, the other priority is to bring customers back to our regional railways.
It is quite an intricate task, because these local services are specified and funded by the regional authorities, of which there are 13 in the Czech Republic, and this can complicate matters! Each region has different requirements in terms of the size of the local network and the desired service pattern, and we are searching for ways to move all the current regional services onto a viable long-term financial footing. But we must be aware that we can only bear those costs that are absolutely necessary, and finding the optimum balance between service provision and ?financial sustainability is a long-term process. Unfortunately, many of our local railways are in much the same state as they were 100 years ago, so some modernisation is clearly essential.
One possible option would be to reduce the access charges for lightly-used branches where there is less hardware to maintain and operating costs are lower, but at present we are still assessing the economic impact of such measures. In general, we are optimistic about the future of our regional railways but, as has been the case in some other countries, we cannot rule out taking some difficult decisions in future.
How are discussions progressing over the proposed merger of CD Cargo and ZSSK Cargo (RG 8.08 p474)? What benefits does the Ministry expect to see from such an alliance??
It is true that such a move is under discussion, and to me the benefits seem quite clear. It would create a significant player at a European level, perhaps the third largest freight carrier after DB Schenker and PKP Cargo. There are other clear advantages — the two companies would share similar rolling stock, a similar language and, to some extent, a common history. In addition, the two countries' geographical location in the centre of Europe is another benefit, particularly with regard to growing opportunities in the east-west transit market.
Does the Ministry anticipate a large increase in open-access freight operation as part of the market liberalisation process??
Today, we have a fully-liberalised market, there are no obstacles facing operators wishing to start services, and already there are several foreign operators, such as DB Schenker, using our infrastructure. We are trying to respect the wishes of our partners in the CEE region regarding market opening, but I would compare the situation to my office door: if there is a handle on the outside but none on the inside, then the process will not work. We must be able to open the door from both sides.
It is also possible that totally new operators from abroad could launch services in the Czech Republic, just as Freightliner of the UK has done in Poland, but to us it is irrelevant who the operator is or where it comes from. I expect more new entrants to emerge, as already we have domestic freight services provided by open-access players like OKD Doprava, for example. They will all enjoy the same access rights to the network — this principle does not differ whether the operator is Peter or Paul!
Is the Ministry satisfied that enough assistance from the EU is available to allow it to meet its objectives under the Railway Packages? What more could the EU do to assist the railway industry in eastern Europe to make financial reforms and to meet interoperability standards, including the implementation of ERTMS?
I want to be very modest. The Czech government was an especially active participant in the negotiations in Brussels that created the railway directives and enshrined the liberalisation process in law. We implemented all the elements of these directives — on interoperability, market opening, financial reform — well in advance of the deadlines imposed. Indeed, we are further advanced in the implementation of the next round of policy directives than some older members of the EU. If anything, we are advising them on how to overcome the challenges of implementation, although I emphasise that we are trying to be modest about our achievements.
Perhaps this is surprising, but at present we do not see any serious challenges in funding the investment required to implement the directives — even if fitting ERTMS-related hardware for example is not cheap. We have adhered to the timescales of the process and, in the case of ERTMS, it is a progressive roll-out of technology along the EU's selected corridors. Corridor E from Dresden to Wien and Budapest, the only one to pass through the Czech Republic, was originally intended to be among the last interoperability projects to launch.
However, that has now changed, as the five member states involved have moved to accelerate the process by signing the common Letter of Intent sooner than originally envisaged. Corridor E has now moved up the list of priorities, and consequently we have received funding from Brussels to allow planning work to commence — it is now an active project.
But the most integral and yet least certain element of the interoperability programme is the ERTMS concept itself — as it stands today, we cannot imagine what the finished version of ERTMS will look like. Nevertheless, the backbone of the Czech network will be equipped with it eventually, although, to return to an earlier topic, it is open to question whether it would be cost-effective to equip all our regional lines as well.
Vojtech Kocourek was appointed Deputy Minister of Transport in 2002. He is responsible for overall public transport provision, and has specific responsibility for rail. He also acts as the Chairman of the Supervisory Board of CD, and is a member of the Scientific Board of Jan Perner University. He graduated from Brno University of Technology's Faculty of Civil Engineering in 1983, and finished his doctoral studies at Jan Perner University in 2004. His professional career began with CD in Brno in 1983, where he worked as a Transport Engineer and then as Deputy Operations Director. From 1991 to 1996 he was Executive Director at Sežev Reko Ltd, and between 1996 and 2003 he was Director General and Chairman of the Board at KPM Consult.
ETCS Level 2 goes live next year
With 455 route-km of European Corridor E within its borders, Czech infrastructure manager SZDC and the Ministry of Transport have initiated a project to introduce ETCS Level 2 over a 22 km double-track section of the Praha – Brno main line.
The project to agree the scope and technical specifications ?of the pilot began in 2005, and focused on the specific requirements of integrating ETCS equipment into existing interlockings and telecoms systems on the route. Having agreed that the trial would use version 2.3.0, a second stage was implemented in 2006 to procure components and install the hardware along ?the trial section from Porícany to Kolín as well as equipping the main test ring at Velim (p797), which is located close to the main trial section.
This stage of the project is now complete, and the Radio Block Centre to manage the test section has been activated. On-board equipment has been fitted to a Class 151 and a Class 362 electric locomotive, and to a Class 471 multiple-unit. Software tests are now underway on both the test section and at Velim; these are scheduled to last until March 2009, after which approval for operations to begin is expected to be granted.