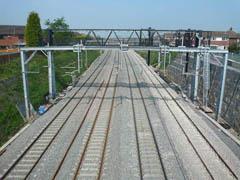 FRANCE: Leaving passengers stranded for hours on trains going nowhere is guaranteed to generate plenty of negative publicity, and a series of unfortunate catenary-related incidents last month in France was no exception. Trouble started during a peak holiday weekend when 400 m of overhead wires were ripped down at Aubagne just east of Marseille on August 15, blocking the Marseille – Nice main line for at least 3 h. Around 80 trains were reported to be badly delayed.
Further serious disruption followed an incident on September 5 when a TGV damaged overhead wires at Montrouge in the Paris suburbs, bringing traffic to and from Paris Montparnasse to a standstill. Media reports indicated that about 20 000 passengers were affected. Five days later yet another case of damaged overhead wires occurred at Drancy on RER Line B in Paris, and once again there was major disruption.
By this time, SNCF and RFF had initiated an emergency two-week programme to check the condition of overhead wires on 10 000 route-km and to examine the 6 600 pantographs on SNCF's rolling stock fleet. Around 1 500 staff were involved, their primary task being to check 250 sensitive locations at major stations and junctions. The programme was approved by Transport Secretary Dominique Bussereau, who expected 'rapid results'.
SNCF President Guillaume Pepy confessed to Les Echos that the overhead wire incidents had cost the railway between €5m and €10m in compensation payments, hotel accommodation and other forms of assistance to passengers. Pepy also acknowledged that they were damaging to SNCF's reputation.
Trade unions did not lose the opportunity to highlight the difficult relationship between SNCF and RFF and the unsatisfactory split of maintenance responsibilities dating from RFF's birth in 1997 (RG 5.08 p287). A report on the effects of the 1997 legislation is being drawn up by Senator Hubert Haenel, and its publication, expected later this year, could lead to further legislative changes.