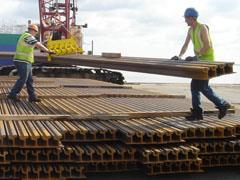 Argentina: Herso and Luis Carlos Zonis have won a 8·6m pesos contract to restore to operating condition the 285 km Puerto Deseado - Colonia Las Heras route over 22 months.
During President Fernández's visit to China co-operation agreements were signed with China Railway International for the 18 km, 29-station metro for Córdoba that is expected to cost US$1·8bn, and the US$1·5bn project to extend Buenos Aires metro Line E to Ezeiza airport (RG 1.05 p7).
Belgium: Infrabel has awarded Eurailscout a contract to undertake automated rail inspection in 2011-13.
Brazil: Invensys Rail Dimetronic will supply the Novavia consortium with signalling equipment for the 10 km, four-station extension of Porto Alegre metro Line 1 from São Leopoldo to Novo Hamburgo.
China: Hollysys Automation Technologies has a 75·8m yuan contract to provide Scada on the north and south extensions of Beijing metro Line 8 totalling 17 km due to open in late 2012.
France: Thales and Exprimm are to install Tetra DigiMax radio communications across Ile-de-France by the end of 2011 under an SNCF contract including eight years of maintenance.
Germany: DB has begun a €40m upgrade of the Frankfurt-Griesheim ICE depot to maintain the Siemens Class 407 high speed trainsets (RG 6.10 p29).
DB has awarded Balfour Beatty a contract to electrify 33 km of the München - Berlin route between Ilmenau and Erfurt by May 2016.
India: The CCCL consortium has won contracts worth R$1·8bn to build 10 elevated stations on Phase I of the Chennai metro by 2013.
Research Designs & Standards Org-anisation is testing plastic composite sleepers on bridges.
Kolkata Metro Rail Corp has appointed Mott MacDonald as detailed design consultant for the six stations on the 5·7 km elevated section of the East-West corridor.
Morocco: Axion International is to supply ONCF with plastic sleepers.
Norway: Skanska has been awarded a NKr392m contract to build 3·4 km of double track on the Vestfold line by June 2014, including a 1·8 km tunnel.
Saudi Arabia: Turnkey contractor Saudi Oger has appointed KEO International to design the 3·6 km Riyadh monorail (RG 7.10 p14).
Spain: Bombardier and Emte Catalunya have won a €14·3m contract to install electronic interlockings at five locations on the Barcelona suburban network and upgrade a sixth.
Travipós and Prefabricados Delta have won a €12·8m contract to supply sleepers and fastenings for Phase 1 of tracklaying between Albacete and Almansa, where two 1668 mm gauge tracks are being provided to free the existing formation for the Madrid - Alacant high speed line (RG 7.10 p12). Phase 2 has been awarded to Flota Proyectos Singulares and Andaluza de Traviesas for €10·9m.
ADIF has awarded ArcelorMittal España a €19·8m contract to supply rail welded into 270 m lengths for tracklaying on the 72 km between Albacete and Amansa. Amurrio Ferrocarril y Equipos, Jez Sistemas Ferroviarios and Talleres Alegría are to supply 1668 mm gauge turnouts for work between Alabacete and Alacant under a contract worth €6·6m.
Sri Lanka: Ircon has been awarded a contract to rebuild the war-damaged 63 km Madu - Talaimannar line in the north of the country over two years at a cost of US$150m.
Switzerland: Leoni has begun delivering 350 km of halogen-free power cables for the Gotthard base tunnel. A further 2000 km of cable will be needed in total.
Turkey: TCDD has awarded the Spanish Ministry of Development's Ineco consultancy a contract to supervise upgrading of the 158 km Köseköy - Inönü section of the Istanbul - Ankara route for 250 km/h operation.
USA: Walsh Construction has been awarded a $205m contract to construct the 11 km St Paul section of the 18 km Central Corridor light rail line between Minneapolis and St Paul.
Granite Construction has a $78m contract to elevate Caltrain's commuter line in San Bruno by 2012, including a new station and signalling and telecoms changes.