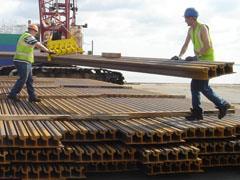 Australia: QR has awarded the Coal Stream Alliance consortium a A$90m contract for civil works on the Goonyella to Abbot Point project.
Brazil: Harsco Rail is to supply Egesa Engenharia with a laser-guided tamping machine.
China: MTR Corp has awarded the Gammon-Nishimatsu WIL Joint Venture a HK$4·75bn contract to build 2·2 km of running tunnel for the West Island Line and stations at Sai Ying Pin and Hong Kong University by 2014.
Czech Republic: Eurovia, Subterra and Viamont DSP are to double and electrify the 18 km Votice - Benesov u Prahy route in a KC6·8bn project including four cut-offs and five tunnels to allow tilting trains to run at 160 km/h.
Finland: Invensys Rail is supplying six Westrace computer-based interlockings and three level crossing and block interface controls for Iisalmi.
Germany: München public works authority SWM has awarded INIT and Telefunken Racoms a contract to equip 30 metro stations and 50 trains with Traincom MT digital radio.
India: Afcons Infrastructure has won a Rs9·4bn contract to build the Central to Howrah Maidan section of Kolkata's East-West metro line, including three stations and 3 km of twin tunnels under the Hooghly River.
Italy: Genoa has awarded Ansaldo STS a €42·3m contract to extend the Dinegro metro depot for longer trains, and provide a park-and-ride site.
Namibia: Indian firm GPT Infra-projects is to establish a concrete sleeper plant in Tsumeb by October, under a Rs1·95bn contract from TransNamib.
Peru: Siemens is to provide traction power supply, telecoms and fare equipment for the 12 km extension of Lima metro Line 1 opening in 2011.
Poland: Strabag and Trakce are to upgrade the Zbaszynek - Gorzów Wielkopolski and Kostryn - Krzyz lines by 2011 under 26·4m and 29·6m złoty contracts 60% funded by the voidvodship.
Singapore: LTA has selected Siemens to provide traction power equipment suitable for regenerative braking for the Downtown Line.
Slovakia: IPR Slovakia is lead contractor for a €200m modernisation of Bratislava's main station, which will gain a new departure hall, administrative buildings, retail area and hotel.
Spain: The Ministry of Development has awarded Copcisa, Ferrovial Agromán and Sacyr a €2573m contract to build 45 km of double-track broad gauge route serving the new southern terminal at Barcelona El Prat airport (RG 1.10 p25).
Sanjosé Constructora has won the first civil works contract for the high speed line between Venta de Baños and Santander, worth €509m and covering the 187 km from Palencia to Amusco. Amusco - Marcilla de Campos has been awarded to OHL for €571m, while Aldesa is to build Marcilla de Campos - Villaprovedo for €557m.
The Ministry of Development has awarded Emte, Iberdrola, SAU and Isolux a €496m contract to supply substations and autotransformers for the Vigo - A Coruña electrification.
ADIF has awarded Construcciones, Alsfaltos y Control a €27m contract to convert for regular passenger use the emergency facility at Villanueva de Córdoba on the Madrid - Sevilla high speed line.
Telvent has a €18m contract to install its SmartMobility Light Rail signalling, communications, security and passenger information Scada covering the 24 km Bahía de Cádiz light rail route due to open by 2011.
Switzerland: On April 6 SBB launched a 3½ year SFr195m programme to modernise the Basel I hump marshalling yard in Muttenz.
Following studies, Rhätische Bahn is recommending that the deteriorating 5865 m Albula tunnel be replaced at a cost of SFr260m rather than modernised for SFr240m (RG 3.09 p8).
UK: Network Rail has awarded the Signalling Solutions joint venture of Alstom and Balfour Beatty Rail a €40m contract to modernise signalling on 105 track-km in Kent.
London Underground has awarded EDF Energy a three-year contract to upgrade power systems on the Circle and District lines.
USA: Amtrak has awarded PCL Construction Services a $37m contract to upgrade the Seattle King Street Coach Yard maintenance facility including a new building to service Talgo trains.
Washington Metropolitan Area Transit Authority has awarded Ensco a $7·8m contract to supply a diesel powered track geometry inspection vehicle in March 2012. Unitrac Railroad Materials has a three-year contract worth $7·2m to supply specialist track components including crossings.
Stantec is designing signalling for the Lake Highland stop which will open later this year on Dallas Area Rapid Transit's Blue Line.