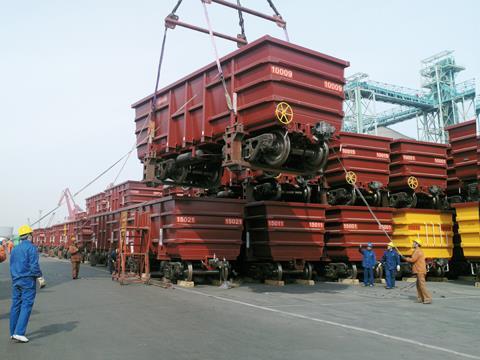 Argentina: Under a contract worth €75m, the federal government has purchased a further five Class 2400 DMUs from Spanish metre gauge operator FEVE as well as three Class 1500 diesel locomotives. FEVE has already sold six Class 2400 DMUs for operation in Argentina.
Australia: In November FMG placed an order with China Northern for further iron ore wagons.
Canada: CP has ordered an additional 30 GE Evolution Series locomotives for delivery in the first quarter of 2012. Meanwhile, EMD is to undertake a multi-year programme to modernise CP's low and medium power yard locomotive fleet to reduce fuel and maintenance costs.
Europe: BASF has ordered 16 Vossloh G6 three-axle diesel-hydraulic shunters and four DE12 and two DE18 Bo-Bo diesel–electrics for mainline and shunting operations at Ludwigshafen, Schwarzheide and Antwerpen. The deal announced on December 14 is worth €40m, including maintenance and spares.
Eurotunnel has awarded Endel/INEO a €1·8m contract to return to service by May 2012 a total of 14 shuttle wagons out of service since 2005.
Finland: On December 9 Helsinki train procurement body Junakalusto exercised a €54m option for a further nine Stadler Flirt EMUs to operate services including the ring line which is under construction to serve the airport from December 2014.
Germany: Tognum is to supply 206 MTU 390 kW Powerpacks to Alstom for 56 Coradia Lint DMUs for Dieselnetz Köln services. They will have SCR catalysers for exhaust cleaning and NOx reduction, and it will be possible to shut down one Powerpack to save fuel.
Hungary: The city of Miskolc has selected Ganz-Skoda Kozlekedesi for a KC2bn contract to supply and maintain 31 ForCity trams; three previous tenders have been cancelled following legal challenges. Most of the cost will be met from EU sources.
India: IR has awarded Bharat Earth Movers Ltd an Rs3·2bn contract to supply 20 eight-car DMUs by March 2013, as IR's usual DMU supplier ICF lacked production capacity.
On November 28 Mumbai Railway Vikas Corp confirmed that Bombardier is to supply traction and control equipment for 864 EMU cars (RG 12.11 p12).
Indonesia: Now entering service in Jakarta are 10 commuter EMUs built by PT Inka with Bombardier electrical equipment, Knorr-Bremse brakes, Konvekta air-conditioning and Stemmann pantographs. The €51m project is funded by German development loans and KfW Entwicklungsbank.
Israel: Following a number of train fires, ISR has awarded Lehavot a contract to provide onboard detection systems.
Italy: South Tirol transport authority STA has exercised a €75m option for Stadler to supply eight six-car Flirt EMUs plus cars to lengthen its four existing four-car units to six cars. This takes total Flirt orders to 707.
Kazakhstan: KTZ's passenger business expects to acquire 180 coaches during 2012. In November it took delivery of 12 coaches including two accessible cars featuring widened corridors and toilets and lifts for wheelchairs.
Malaysia: Scomi Rail is to supply 12 four-car trains for the KL Monorail under a 494m ringgit contract which includes upgrading the 11 stations and building a new depot. Strukton Rolling Stock will supply traction inverters.
Poland: Two modernised Tatra RT6N1 trams have returned to service in Poznan after the Modertrans subsidiary of operator MPK Pozna replaced the electrical equipment with three-phase AC motors, microprocessor controls and a new braking system.
Romania: Bucuresti metro operator Metrorex has confirmed CAF as the winner of a contract to supply 16 trainsets. On December 16 EIB signed a €465m loan to finance Section II of Line 5, and the acquisition of a further 30 trains.
Russia: Globaltrans has ordered 1500 open wagons for delivery by the end of February.
Brunswick Rail announced the purchase of a fleet of more than 2000 coal wagons on November 24, taking its total to more than 20 000. The deal is funded by VTB and Raiffeisenbank; the wagons will be leased to U-Trans.
Sierra Leone: Standard Bank has agreed two five-year loans for African Minerals Ltd's Tonkolili iron ore project. US$40m will enable RRL Grindrod to lease 20 locomotives to AML, while a US$90m loan to AML will fund the purchase of wagons and other equipment.
UK: First Great Western has awarded Wabtec Rail Scotland a contract to refurbish five Angel Trains Class 180 DMUs and rebuild 15 Mk III buffet cars as standard class coaches.
USA: Washington DC's DDoT has purchased two United Streetcar trams for the future H Street line for $8·7m.