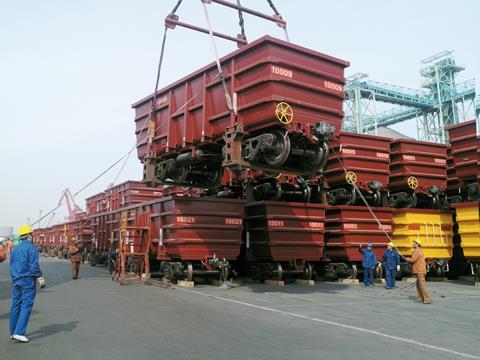 Australia: In a A$36m deal the South Australia government has acquired six Alstom Citadis trams built for Madrid but now surplus to requirements. They will be in services by December, sooner than new vehicles could be built.
Brazil: São Paulo metro has awarded a consortium of Bombardier, Temoinsa and Tejofran a €139m contract for modernisation of 26 six-car trainsets used on Line 1.
Bulgaria: BDZ has put into service 12 refurbished sleeping cars and three bistro cars acquired from DB. Another 20 cars are expected later this year.
Canada: Vancouver's TransLink is to purchase seven Bombardier bi-level coaches for West Coast Express services at a cost of C$28·1m.
Czech Republic: CD has awarded Pars Nova a KC1·6bn contract to modernise a further batch of Class 810 railcars and Class 010 trailers into 68 two-car DMUs based on the Class 814/914 Regionova, but with refinements including lower noise levels, better interior heating, LED passenger information, hooks for bicycles, improved sanding and more powerful cab air-conditioning.
Pars Nova is to convert another 17 redundant Post-w postal cars into Class 954.2 driving cars for inter-regional services at a cost of KC340m.
France: A Francilien EMU ran between Epernay and Vitry-le-François on its own for the first time on June 3, after returning from the Wildenrath test track. Three sets are undergoing testing elsewhere on the French network, checking 1·5 kV and 25 kV current collection, clearances, multiple operation and electromagnetic compatibility.
Kazakhstan: GE Transportation has signed a 15-year contract worth US$500m with KTZ's Lokomotiv subsidiary covering the servicing and overhaul of 404 2TE10 locomotives which GE has modernised. GE will work with local firm Kamkor Repair Corp.
Montenegro: In May Gredelj delivered the first five of 10 Type Z coaches being refurbished for ZCG. Serbian firm Zelvoz is modernising a further 21 cars, and the Centralne Delavnice workshops in Slovenia five, at a total cost of €5m for all 36 cars.
Poland: A consortium of Newag and ING Lease Polska offering 19WE units for 87m zloty was the lowest bidder to supply SKM Warszawa with four EMUs on a 15-year lease.
Protram is to supply MPK Wroclaw with 16 trams at a cost of 33·9m zloty. Eight will be Type 205WrAs three-section cars, the rest 204WrAs single-section cars which will work in pairs.
PESA Bydgoszcz signed the 1·5bn zloty contract to supply Warszawa with 186 Type 120N low-floor trams on May 29, after the public procurement office approved the tendering process (RG 5.09 p13). Deliveries will run from September 2010 to the end of 2013, enabling the replacement of around 40% of the current fleet.
Russia: TransContainer and Tatra-v­agonka have agreed to form a joint venture to produce container wagons. 300 will be supplied from Slovakia, before production of up to 2 000 wagons a year is launched at TransContainer's site at Gryazinsk.
Singapore: Last month CSR Zhuzhou was awarded a contract to supply 14 battery-electric engineering and maintenance locomotives for the Downtown Line during 2011.
UK: Leasing firm VTG has entered the UK coal market with a deal to supply 89 WH Davis 74·5 tonne capacity hopper wagons to First GBRf. The first 20 entered service on June 5 carrying coal for EDF Energy.
USA: At a cost of $72m, last month NJ Transit added a further nine Bombardier ALP-46A electric locomotives to its December 2007 $245m order for 27 for delivery by mid-2011.
American Railcar of Columbus, Ohio, has acquired rights to the DMU designs of Colorado Railcar, which ceased operations late last year. 'We are looking forward to resuming manufacturing of this great DMU in 2009', said the company's Ted Schaefer.
On May 19 Denton County Transportation Authority placed a $73·8m order for 11 Stadler GTW 2/6 DMUsfor the Carrollton – Denton A-Train. They will be delivered by April 2012, replacing Budd RDC cars from Trinity Rail Express which will launch A-Train services in December 2010.
Vietnam: On June 6 Iranian firm Wagon Pars signed an agreement to supply DSVN with 200 passenger coaches within 30 months.