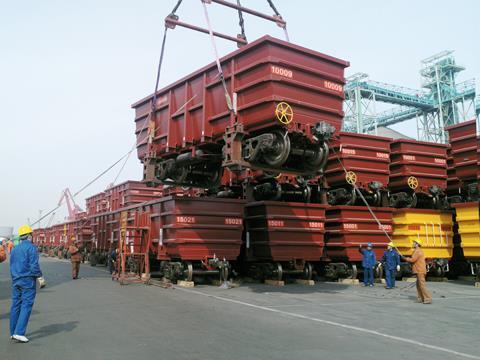 Bulgaria: Pesa has been selected to supply 20 Swing five-section low-floor trams for 1009 mm gauge routes in Sofia. The €50m deal includes €16·8m for spare parts and diagnostic equipment. Delivery is planned for 2014.
China: The YCSR joint venture of engine manufacturer Yuchai and CSR has appointed Ricardo to assist with upgrading its 240 mm cylinder bore engine design to offer 'internationally competitive' standards of performance, fuel economy and durability, and compliance with UIC Stage III/EU Stage IIIA emissions standards.
Germany: On April 8 Bombardier announced a €336m variation order to its framework agreement to supply Siemens with components for the ICx fleet, reflecting DB's decision to add 170 vehicles to the initial order.
Tognum is to supply Alstom with 307 underfloor Powerpacks for Coradia Lint DMUs ordered by DB and Netinera. Veolia has awarded Tognum a €20m contract to overhaul 360 Powerpacks over four years.
RDC Deutschland has awarded Euro-Maint Rail a contract to modernise six former ÖBB Class 4010 EMU cars and fit electronic reservation displays, at-seat power sockets, wi-fi and retention toilets for use as hauled stock on Hamburg-Köln-Express open access inter-city services.
Within a December 2008 framework agreement, DB has awarded Bombardier a €113m firm order to supply 12 four-car Twindexx Vario EMUs for Main-Spessart services which DB Regio is to operate in 2015-27 under a contract awarded by the Bayern and Rhein-Main transport authorities.
Indonesia: The PT Jakarta Monorail consortium has selected CNR Changchun to supply 10 monorail trainsets by 2016. Two lines are planned totalling 24 km.
Japan: A three-section low-floor LRV has entered service on the Fukui Railway. Three more LRVs are due to enter service between 2014 and 2016.
Kazakhstan: KVSZ has delivered the first 16 of 49 Type 61-779P coaches ordered by KTZ.
KTZ has ordered a 10-car Type ED9E electric multiple-unit from Transmashholding's Demikhovsky Engineering Plant for delivery in July.
New Zealand: CNR Dalian rolled out the first of its second batch of 20 diesel locos for KiwiRail on March 13. These are expected to enter service from July, and a third order may follow. They incorporate some changes based on experience with the first batch, which CNR Dalian says are now achieving significantly higher reliability than specified in the contract.
Poland: KS has leased eight EN57 EMUs from PR until the end of the year at a cost of 8·1m złoty.
PR is to lease two single-car DMUs from Pesa for eight years for 22·6m złoty, and four two-car DMUs from Newag for 44·5m złoty.
KM has selected ZNTK MM and Pesa to modernise two EW60 EMUs, fitting new traction equipment and folding steps for use with low platforms.
Newag and ZNTK MM are to modernise 44 PR EN57 EMUs at a cost of 381m złoty, fitting AC traction motors from TSA and Medcom electrical equipment.
Tramwaje Elblaskie has awarded Modertrans a contract to modernise two M8C trams purchased from Augsburg, fitting low-floor centre sections.
Russia: Tatravagonka and TransContainer are to co-operate in the development of 25 tonne axleload wagons which would allow faster running of container trains in Russia.
Singapore: Alstom has awarded Jilin Midas Aluminium Industries a S$17·3m contract to supply body components for 180 cars being built for the North East and Circle lines.
Land Transport Authority has confirmed the purchase of 15 three-car Movia trainsets from the consortium of Bombardier Transportation and Changchun Bombardier Railway Vehicles Co. The order is worth S$119·2m, with Bombardier's share valued at S$46m. The additional trains are to increase peak capacity on the Downtown Line, for which LTA had already purchased 73 trainsets.
South Africa: Transnet Engineering is developing a prototype diesel loco for shunting and short-haul work on 1067 mm gauge lines in Africa.
Sweden: Hector Rail has bought 42 inter-city coaches suitable for 200 km/h running from the Netherlands. It does not intend to enter the passenger market, but will offer them for lease.
UK: Trelleborg Industrial AVS has won a four-year contract to supply Metalastik components for the primary and secondary suspension of London Underground trains. It will hold agreed stock levels, with LU placing orders as required.
DB Schenker Rail is modifying 72 intermodal wagons to operate daily freight services from the new London Gateway port from late 2013. Modifications to the 60 ft wagons will reduce their deck height to 1 m, enabling them to carry high-cube containers on routes cleared to the W10 loading gauge.
Network Rail has taken delivery of 29 Iveco Daily 4x4 road-rail vehicles.
USA: Greenbrier announced orders for a total of 5400 wagons worth $575m in the first three months in 2013, saying it was benefiting from a strategy of diversifying the types offered to reduce its reliance on particular commodities.