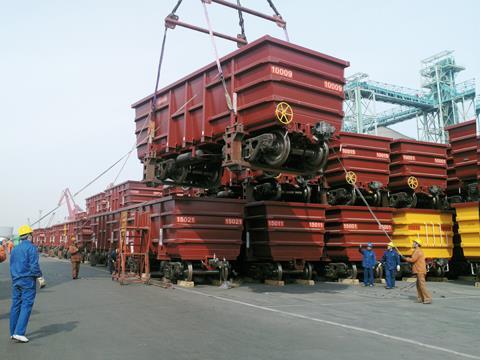 Australia: Faiveley is to supply United Group with braking equipment for 18 four-car Oscar trains to be delivered from November 2010 in the third phase of the Sydney outer-suburban rolling stock programme.
Cuba: Iranian firm Wagon Pars has supplied 100 covered vans to Cuba under a 60bn rial contract, completing an order for 550 wagons.
Germany: LNVG has awarded Bombardier a €19m contract to maintain two Traxx locos and 34 double-deck coaches. It has amended existing contracts so they also now run to 2022, increasing their value by €41m.
Ireland: Hyundai Rotem has awarded Tognum an €11m contract to supply Powerpacks with 6H 1800 R83 engines for use on regional DMUs to be delivered to Iarnród Éireann from 2011.
Italy: Milano-based FNM has become Stadler's eighth Italian customer, with a €90m order for 11 four-car GTW 4/12 and eight two-car GTW 2/6 DMUs to be delivered in 2011.
Poland: A previous tendering process which selected Solaris having been annulled, Szczecin has selected Pesa to supply six trams. The 120Na cars and related maintenance equipment will be supplied at a cost of 55·2m zloty.
Portugal: Wagon manufacturer EMEF has ordered 1 400 wheelsets with VMS low-stress wheels and axles to be supplied by GHH-Valdunes over 18 months.
Serbia: Eurofima has approved a SFr43m loan to Serbian Railways for the procurement of around 10 DMUs by mid-2011. Funding is being sought for a further four units.
Slovakia: ZSSK has awarded Škoda Transportation contracts totalling €83m including the first export order for the 109E locomotive unveiled last year. Skoda will supply 10 three-car push-pull trainsets based on an unpowered version of the CityElefant double-deck EMU, and modernise 10 electric locomotives by 2013.
ZSSK has called tenders to modernise 15 Class 162/163 3 kV DC locomotives as dual-voltage Class 361 as part of the conversion of DC lines in northern Slovakia to 25 kV AC (RG 8.09 p45).
Spain: Development Minister José Blanco (centre) visited El Berrón on August 18 to open FEVE's new Asturias control centre and unveil the metre-gauge operator's first Class 2700 DMU. CAF and Sunsundegui were awarded a contract to supply 12 units for €44m (RG 10.08 p773), followed by a €79·6m option for an additional 23 DMUs in April this year.
Sri Lanka: India has donated 10 road buses to Sri Lanka Railways, and is funding their conversion into five DMUs for use between Batticaloa and Trincomalee.
Switzerland: ABB is to supply Stadler with transformers and traction converters worth US$75m for use on Flirt EMUs for Norway and GTW DMUs for various customers.
Last month SBB's Biel plant completed the first of 23 SBB Cargo ?Tm IV shunters which are being rebuilt as class Tm 232 in a programme to extend their lives by 20 years.
Ukraine: During a visit to South Korea by Prime Minister Yulia Tymoshenko, on July 16 an agreement was signed for Hyundai Rotem to supply UZ with 10 EMUs and four DMUs. The production of Korean-designed trains in Ukraine will be studied.
UK: The last of 29 Hitachi Class 395 EMUs built in Japan for High Speed 1 domestic services was unloaded at Southampton on August 17.
Leasing firm VTG has begun taking delivery of 20 wagons built by Greenbrier Europe in Poland. To be leased to Mendip Rail, the 102 tonne GLW wagons have corrosion-resistant linings for carrying sea-dredged sand with high salt content.
USA: Caltrans has selected Alstom for a $13·1m two-year contract to modernise 66 Morrison Knudsen double-deck inter-city coaches operated by Amtrak.
MTA Metro-North Railroad has awarded Progress Rail Services a $7·9m contract to modernise six of its F40PH diesel locomotives.
Virginia Railway Express has placed a $44m order with MotivePower for 12 MPXpress commuter locomotives.
Oregon Iron Works has been awarded a $20m contract to supply six 10 T3 trams to the city of Portland (RG 8.09 p31).
Uzbekistan: Transmash Holding's Kolomensky plant is to supply 90 model 1A-9DG engines by January 2010 for use in the modernisation of 2TE10U locomotives in Toshkent. Transmash says the lower fuel consumption and maintenance requirements mean the engines will pay for themselves within six years.