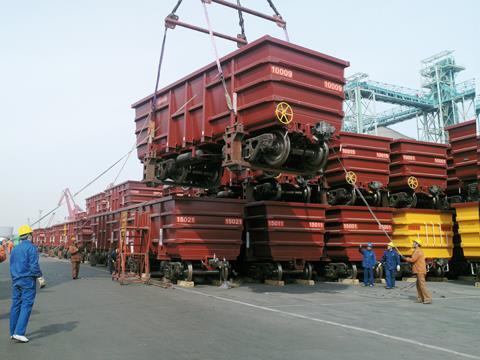 Argentina: The province of San Luis has acquired a 3GS-24C GenSet N-ViroMotive for 11m pesos.
Australia: Fortescue has ordered 246 iron ore wagons from CNR, while Pacific National has ordered 728 coal hoppers from CSR Yangtze.
Bangladesh: CNR Tangshan is to supply BR with 20 three-car metre-gauge commuter DMUs for US$58·3m.
Brazil: AmsteadMaxion is to supply 462 wagons to MRS Logística and 145 container wagons to Brado Logística, which is also to acquire two GE diesel locomotives for R$8m.
Canada: Montréal's port authority has ordered two more RJ Corman Railpower 2000 hp genset locos.
China: CSR Nanjing Puzhen has signed a 3·13bn yuan contract to supply 402 metro cars to Nanjing from 2013. Line 3 will get 46 Type A trains with lightweight welded aluminium bodyshells, while 21 trains to be delivered to Line 10 will be riveted.
Estonia: EVR Cargo has placed a €30·2m order for 16 CNR Beijing February 7 Type DF7G-E diesel shunting locos to be delivered 2012-13
France: RATP has placed a €300m order for Alstom, Bombardier and Areva to supply 66 more MF01 metro trains in 2013-16 for Paris Line 9, the last of three options in a 2001 framework for up to 160 trains.
Under a 34-year leasing contract worth €1554m awarded by the regional council, a special purpose vehicle formed by Sogefinerg and Calif is to acquire 10 trainsets from SNCF for TER services in Poitou-Charentes.
Gabon: In July two EMD JT42CWR locos built for leasing firm Crossrail in 2008 but not delivered were shipped from Rotterdam for use by Setrag.
Germany: Vossloh España has won a €37·6m contract to supply 13 Tramlink LRVs with roof-mounted ultra-capacitors to Rostock in 2013-14.
Cantus has reached a strategic agreement for Siemens to supply up to 200 trainsets, enabling it to submit accurate costings when bidding for passenger operating contracts.
Hungary: Stadler has won a contract from MÁV to maintain 10 Bombardier Talent EMUs until 2017, the first time it will maintain another manufacturer's rolling stock.
India: IR has rejected a proposed aluminium-bodied wagon design developed by a joint venture of FreightCar America and Titagarh Wagons because of concern about metal being cut out and stolen.
Indonesia: Jakata commuter operator PT KAI Jabodetabek has taken delivery of 20 second-hand coaches bought from Japan for US$2·3m.
Italy: ATM has awarded CAF a €553m contract to supply 218 motor bogies for Milano metro Line 2 trains, as well as 32 trailer bogies and 144 wheelsets for Line 1.
Ferrovie Udine-Cividale has ordered 35 intermodal wagons from EKK Wagon for €3m, with an option for 10.
Lithuania: LG has awarded Skinest Baltija a 30m litas contract to supply flat and tank wagons.
Pakistan: The National Logistics Cell freight organisation has agreed to fund the repair of up to 20 out-of-service PR locomotives.
Poland: Following a legal challenge KD cancelled a contract for Pesa to supply five four-car EMUs and awarded the 100m złoty order to Newag.
Lubuskie voivodship has ordered a Newag 220M DMU for 8m złoty.
Russia: RZD has announced plans to buy 248 EMU and 21 DMU cars from Transmashholding by the end of 2011.
TMH's Bryansk plant is supplying Uralelectromed with 300 type 12-3090 hopper wagons featuring a revised design to prevent deformation of the bodywork during loading and reduce friction during unloading.
Brunswick Rail is taking delivery of 70 Promtraktor-Vagon 12-1304 open wagons with 18-9836 Amsted Rail bogies for testing. A 25 tonne axleload and lengthened body give a capacity of up to 75 tonnes.
Petersburg Tram Mechanical Factory is to supply 30 more 71-153 trams to Moscow. They will feature more powerful heating with 'air curtains' at the doors, and a Glonass location system to enable the provision of real-time information online.
Vagonmash is to supply 24 cars to the St Petersburg metro for 492m roubles.
Sudan: CSR Ziyang is to supply five locomotives to Sudan Railways, and has signed a three-year contract to maintain 19 which have reached the end of their two-year warranty.
Turkey: CNR Dalian has delivered two CKD2 locomotives with CAT3512B engines to an unspecified customer.
Turkmenistan: The railway ministry has awarded Stock Plaza a contract to supply 250 hopper wagons.
UAE: Etihad Rail has ordered seven EMD SD70ACS heavy-haul locomotives to be delivered in 2012.
UK: Stadler Pankow has won a £16·3m contract to supply six Vario-bahn trams to increase capacity on Croydon Tramlink from early 2012. As rapid delivery is required, three will be diverted from an order for five placed by Bergen's Bybanen which Stadler has already completed.