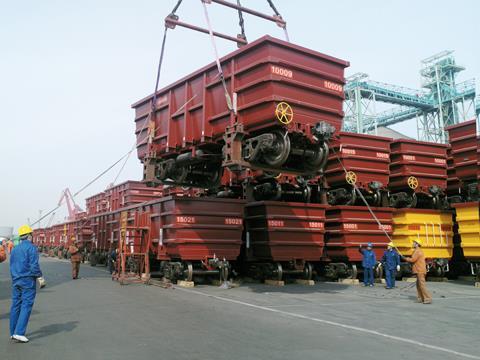 Austria: Following the end of the warranty, Innsbruck tram operator IVB has awarded Bombardier a €44m contract to maintain its fleet of 32 Flexity Outlook cars until December 2028, with an option for eight years.
Czech Republic: D has awarded Pesa Bydgoszcz a KC191m contract to refurbish 15 Bdt second class coaches into a new type ABpee for 140 km/h push-pull services from mid-2014. The air-conditioned coaches will have 30 first and 40 second class seats, power sockets, a passenger information system, retention toilets, plug doors and space for bicycles or prams.
Europe: Siemens has sold three Eurorunner diesel locos to Metrans Rail for delivery in mid-2013, and one to Adria Transport. These will be the final Eurorunners, with the design now succeeded by the Vectron DE offering improved braking and fuel consumption and meeting the latest standards for crashworthiness and emissions.
Wabtec has signed a US$18m multi-year contract for its European subsidiaries to supply brake equipment for wagons ordered by GATX Rail Europe from various manufacturers.
Germany: On August 16 DB announced a €108m firm order within existing frameworks for Bombardier to supply a further 32 Traxx Class 146 electric locomotives for use on regional passenger services from 2014.
Iraq: IRR has called tenders for the supply of DMUs.
Italy: Last month CAF was formally awarded a €113·4m contract to supply 15 trainsets for Roma metro lines B and B1 (RG 8.12 p16).
Pakistan: Kits for 36 coaches were delivered by China National Machinery Import & Export Corp last month, for local assembly by PR's Carriage Factory in Islamabad.
Poland: This month Pesa will begin delivering six Swing Duo trams to Warszawa. A twin-cab version of the 180 Swing trams being delivered in 2010-13, they will enable a new route to Tarchomin to be opened in stages without requiring turning loops.
Kujawsko-Pomorskie voivodship has awarded ZNTK MM and Pesa a 31m złoty contract to modernise four ED72 EMUs, fitting new front ends, windows, doors, floors, a complete new interior, air-conditioning, retention toilets, passenger information systems, power sockets and wi-fi.
Slaskie voivodship operator KS has signed a 34m złoty contract with Newag and ING Lease to lease two modernised EN71 EMUs. Major refurbishment to be undertaken by Newag includes new front ends, interiors and repowering with AC traction equipment.
After preferred bidder Newag withdrew, second-placed bidder Solaris has been awarded a 120·6m złoty contract to supply 15 trams for a planned line in Olsztyn (RG 3.12 p20).
Russia: Demikhovsky Engineering Plant is refurbishing 36 three-car class ED9E EMUs for use in Kazan, fitting a new interior, air-conditioning, sliding-plug doors and wheelchair ramps and an accessible toilet. New traction equipment and regenerative braking is expected to reduce power consumption by 20% to 30%.
Metrowagonmash is to supply 12 Type 81-717.6/714.6 metro cars to Nizhny Novgorod by November.
Last month Transoil bought 10000 second-hand petroleum tank wagons from Freight One, increasing its fleet to 25000.
South Africa: Interfleet Technology is supporting Prasa with preparing specifications and tender documentation for its planned acquisition of 7224 EMU cars (RG 6.12 p10).
Tunisia: Sncft has taken delivery of a further six locomotives supplied by China South. Of an initial six delivered earlier, two are in service on the Tunis – Beja – Jendouba line.
Turkmenistan: The Ministry of Railway Transport has ordered 300 cement and fertiliser wagons from Stock Plaza, and 200 petrol tank wagons from Breyk Taim Club.
Ukraine: The Elektrotrans joint venture of Electron and TransTec Vetschau has won a 11·9m hryvnia contract to supply a low-floor metre-gauge tram to the city of L'viv.
UK: VTG Rail UK has taken delivery of 50 petroleum tank wagons from Greenbrier Europe. 'Track-friendly' TF25 bogies and a self-supporting tank which eliminates the need for a separate underframe allow a payload of 76 tonnes within a 25·4 tonne axleload.
USA: On July 30 leasing firm CIT Rail announced it had placed orders with various manufacturers for a total of 3000 tank wagons to be delivered from 2014.