The first of three planned tram lines in Nice on the Côte d'Azur is due to be opened by French President Nicolas Sarkozy on November 24, restoring urban rail services to the city after a gap of 55 years. Murray Hughes reports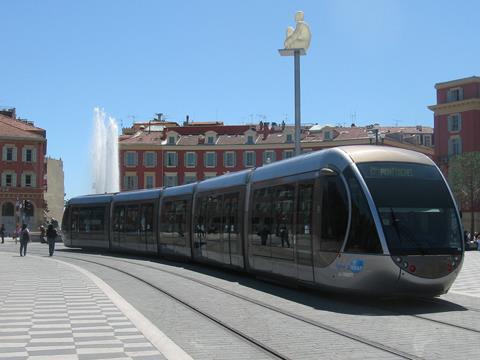 NEXT MONTH marks the return of trams to the French resort of Nice on the Mediterranean coast. No fewer than 11 tram routes once graced the city's streets, but the ubiquitous bus replaced four of them in 1927. Just 26 years later all the trams had vanished.
Now the tables have been turned, and trams are being welcomed back by the local population. Those who rode the original Nice tramcars would not recognise the vehicles now gliding through the city. A fleet of 20 sleek Citadis cars is being used for driver training as final preparations are made for the launch of services on the first line.
Running for 8·7 km from Las Planas to Pont Michel, the alignment heads south towards the coast, serving Comte de Falicon, Le Ray and Gorbella. Beyond here the two tracks separate for a short distance to run through different streets, rejoining as a double-track alignment before the stop at Valrose Université.
The line passes within 500 m of the terminus of the metre gauge Nice – Digne line, which was moved away from its former site some years ago. The long-term aim is to provide cross-platform interchange, but this will require construction of a short section of new railway. In contrast, easy interchange with SNCF services will be provided where the tram alignment runs past Nice-Ville station on Avenue Thiers.
Continuing south to Masséna, the route next turns northeast to serve Opéra and the old town. After stops at Place Garibaldi and Palais des Expositions, the line swings east to reach Vauban and Saint-Jean d'Angély Université. The final section takes the line north through Saint-Roch and Saint-Charles to terminate at Pont Michel.
Battery traction
In the city centre Line 1 traverses two attractive squares where the local authority was reluctant to permit erection of the 750 V DC overhead power supply. For this reason a 440 m section from Jean Médecin to Place Masséna and a 470 m section from Jean Jaurès to Garibaldi have been built without wires.
Rather than adopt the ground-based power supply system chosen for Bordeaux, the planners opted for onboard battery power. Each tram carries a 1?450 kg pack of 68 specially developed nickel-hydride 12 V batteries sufficient to generate 200 kW. This permits the trams to accelerate at 0·5 m/s² and to run at 30 km/h with enough power to keep the air-conditioning operational. Drivers switch between overhead wire and battery mode while the trams are stationary, and there is a 320 m long section between the two squares. Recharging takes place while the trams run under the wires, and the batteries are expected to have a life of five years.
Line 1 has 21 stations and will later be extended 4·5 km northeast, roughly parallel to the Nice – Breil-sur-Roya railway, from Pont Michel to La Trinité. Consultation for the extension and two other lines began earlier this year, and this process will continue into next year. Route proposals will be formally presented later this year, and detailed studies will need to be completed before a public enquiry is held at the end of 2008.
Plans for the 8 km Line 2 envisage a route with 10 stations from the Nice port area initially to Saint-Augustin and Nice-Côte d'Azur airport, with a second 7 km stage taking the line west to Cagnes-sur-Mer. Line 3 will run for 7 km from a future interchange at Saint-Augustin to Lingostière in the Plaine du Var, where connections will be possible with Nice – Digne metre gauge trains.
The three lines will form a network of around 36 route-km, the objective being to serve the main employment centres and all major housing areas. Once the network is complete, around 60% of the local population will be within 500 m of a tram stop, as will 80% of employment locations – 42?000 jobs will be accessible from Line 1 alone.
Streets smartened up
Construction of Line 1 provided the opportunity to update the urban environment along the entire length of the route. Nearly 2 km of streets were pedestrianised, 1?200 trees were planted, pavements were widened and new street furniture and lighting installed.
A series of special artworks was commissioned after a competition that attracted 218 entrants, 15 of whom have been able to display their works at stations and along the alignment. This linear open-air art gallery will be formally 'opened' when the tram service is inaugurated next month.
Depot
Occupying 2·8 ha on a cramped site below the Falicon hills, the depot and workshop next to the Las Planas terminus houses a substation and the control centre for Line 1. Parking for 765 cars is provided, with additional spaces for staff and local residents.
The structures have been designed to blend into the surrounding area, with roof vegetation used to mask part of the buildings. Stabling sidings have been laid to accommodate a fleet of 28 five-section trams. Maintenance tracks have pits and overhead gantries for access to roof-mounted equipment, and a car wash and paint booth are provided. There is also a short test track.
Planning
The project predates the establishment of the Communauté d'Agglomération Nice Côte d'Azur, which took over the scheme in 2001 after its launch by Mayor Jacques Peyrat. Preliminary work started in that year, although a declaration of public utility was not signed until March 11 2003. Construction finally started in March 2005, and the last rail was welded into place on June 28 2007.
Test running had begun in March on an 800 m section of Line 1 between the depot at Las Planas and Square Boyer, and on July 20 trials were extended to cover about two-thirds of the line; the first tram ran along the entire route on August 17. A shadow service began at the end of September, giving more than four weeks for drivers to become familiar with the route – and for pedestrians and car drivers to become accustomed to the new vehicles.
Trams will run at 8 min intervals, stepping up to 4 min headways during peak hours. End-to-end journey time will be around 30 min, although most trips will be around half that as the route provides links from two suburban areas to the city centre.
Tickets costing €1·30 will be valid on trams and buses and will entitle holders to free car parking at designated stations and stops.
Cost shared
Construction of Line 1 is part of a €407m public transport improvement package that included development of a busway which was partially opened in February 2005. The final section between the Port and the Préfecture will open with Line 1.
Of the total cost, €33m was provided by Canca, with contributions of €28m from the state, €29m from the Conseil Général des Alpes-Maritimes and €17m from the Conseil Régional de Provence Alpes Côte d'Azur.
CAPTION: Test running over the entire length of Line 1 began in August, and a shadow service was due to start operating at the end of September. Trams pass through Place Masséna using battery power
CAPTION: Right: Specially-commissioned artworks are located along the alignment of Line 1
CAPTION: Line 1 will be extended from Pont Michel to La Trinité, while a second route will parallel the coast to serve the airport and Cagnes-sur-Mer. The third line will run from Saint-Augustin to Lingostière
Low-floor fleet
EACH five-section Alstom-built Citadis 302 car is mounted on three bogies, and total length is 33 m. The 100% low-floor cars are designed for additional sections to be inserted that would take the length to 44 m.
The design is bidirectional with four double doorways and two single-leaf doors on each side. Car width is 2 650 mm, and there are 54 fixed and eight fold-down seats. This leaves standing room for 152 standing passengers at 4/m² or 243 at 6/m²; space is provided for two wheelchairs. Full air-conditioning will keep the interior cool during the summer, and video surveillance equipment has been installed for security purposes.
Traction power is supplied at 750 V DC from an overhead line or from the roof-mounted battery pack.