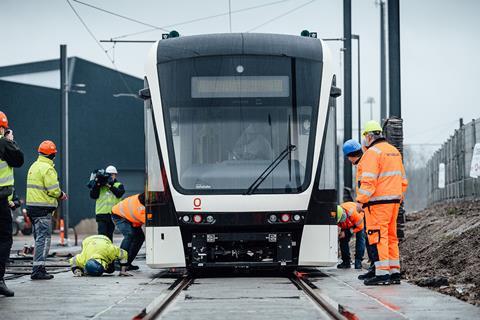 DENMARK: Two options are put forward in a report into possible future expansion of the light rail line which is currently under construction in Odense.
The 14·5 km phase one line running from Tarup in the northwest to Hjallese in the south is expected to open at the end of 2021.
One proposal for phase two is for the construction of a 4·9 km branch to Seden in the northeast, which would add 10 stops and create a Y-shaped network.
The second option includes both the Seden branch and a branch to the zoo in the southwest, adding a total of 7·3 km and 14 stops to create a H-shaped network with two routes which would overlap in the central section.
Odense Letbane has produced the report with COWI, Niras and WSP, as well as the mayor's office and the municipality.
'In 2019, we were asked by the city council to prepare a basis for decision making for stage two', said CEO Mogens Hagelskær. 'Together with our external advisers, we have made a thorough analysis of passenger numbers, employment, design and finances, and along the way we have benefited significantly from our experiences with stage one.'
The council said any decision on whether to go ahead with a second phase would be taken in autumn 2022 at the earliest.