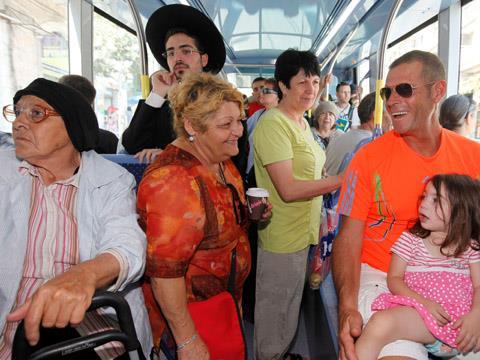 ISRAEL: The Jerusalem light rail Red Line opened for trial services on August 19, with 40 000 passengers carried on the first day. Travel is free until September 1 because of problems with ticketing equipment.
'This is a happy day for Jerusalem and its residents', said Mayor Nir Barkat, although he had to cancel a planned visit. 'Despite the birth pangs, this transportation system will gradually become the most advanced service in Israel, benefiting residents and visitors.'
Changes to the bus network and tram priority measures had not been implemented by the launch date, meaning end to end journey times on the 13·8 km route from Mount Herzl to Pisgat Ze'ev with 23 stops are longer than the 42 min which is planned once full services begin.
The full service will operate from 5:30 to midnight, or 15:00 on Fridays, with headways of 4 min in the peak and 10 min off-peak. The 46 Alstom Citadis 302 trams have 56 fixed and eight folding seats, and will operate in pairs to give a total capacity of 450 passengers per set.
The Red Line has been developed under a 30-year concession awarded to the CityPass consortium of civil engineering firm Ashtrom, railway systems supplier Alstom, investors Israel Infrastructure Fund, Polar Investments and Harel Insurance, and operator Veolia, which has an agreement to sell its stake to local bus operator Egged over five years.