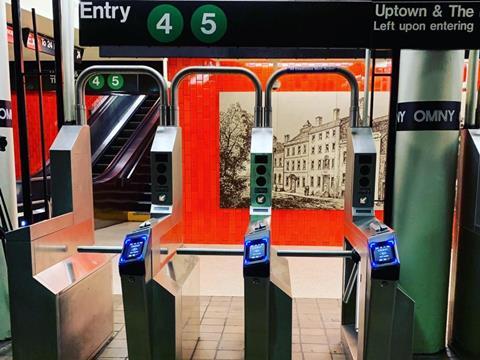 USA: New York Metropolitan Transportation Authority expects to expand its OMNY account-based contactless fare payment system to all bus routes in Manhattan, as well as Subway stations across four city boroughs, by the end of February.
The system would be installed at stations served by the A, C, 2, 3, 5, and 7 Subway lines, which serve Brooklyn, Harlem, Queens, and Lower Manhattan. This would take the number of OMNY-equipped stations to more than 200.
OMNY will also be rolled out on more than 600 buses operating on 30 routes in Manhattan, allowing passengers a more convenient interchange between the bus and Subway networks.
According to the MTA, OMNY adoption is 'surpassing expectations and showing accelerating growth'. The system has now registered over 10 million taps – 5 million during the first 31 weeks, and the other five million in the past eight weeks, including three million fares in February alone.