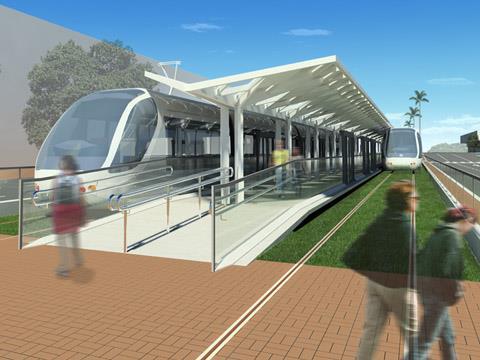 BRAZIL: On June 25 Montpellier's transport authority TAM signed a partnership agreement with the Brasilia Federal District to provide technical consultancy for six years during construction of Brasilia's first tramway.
The Brastram consortium, which includes Alstom Transport, has been selected to build phase I of the city's LRT network. The first section will cost around R$780m (€265m) and is due to open in 2010. The 8·7 km route, with 11 stations, will run from Terminal Asa Sul, on the Green and Orange metro lines, along the centre of the city's congested W3 Sul avenue to 502 Norte station, and is expected to reduce car traffic by 30%.
ADF, the French development agency, is providing a loan worth €134m towards the cost of the project, and a further €350 000 for Montpellier's technical assistance. The remainder will be financed by the government.
Due to be completed in 2014, in time for the FIFA World Cup, Line 1 will be 22·6 km long with 24 stations. A 6·5 km southern section will connect the Juscelino Kubtschek International Airport to the metro network at Asa Sul, whilst the 7·4 km corridor from 502 Norte will eventually join up with the metro at Terminal Asa Norte. The total project cost is put at €660m. Initial ridership is expected to be around 56 000 passengers a day, growing to 142 000 in 2014.
Concerns have been raised about the environmental impact of the project on Brasilia's unique urban architecture, which is a UNESCO world heritage site. Alstom's Citadis trams will use power from a third rail on the stretch between 502 Sul and 502 Norte, to avoid the installation of overhead catenary.