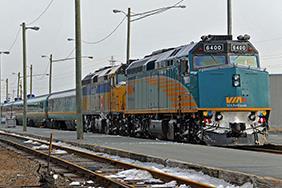 CANADA: An agreement has provisionally been reached to support the continued operation of VIA Rail's Ocean service over a 71 km section of the former New Brunswick East Coast railway, Federal Transport Minister Lisa Raitt announced on May 12.

The Ocean runs three times per week between Montréal and Halifax, but deteriorating infrastructure and modest ridership had imperilled its long-term future.

An agreement between the province of New Brunswick and infrastructure owner Canadian National in January had seen the government provide C$25m for repairs to two sections of the coastal corridor between Campbellton and Moncton to allow freight trains to continue. But the 71 km between Nelson Junction near Miramichi and Nepisiquit Junction near Bathurst carries no originating or terminating traffic, prompting CN to put the section up for sale.

Under the latest agreement, which is subject to final ratification by the management boards of the two operators, VIA Rail will provide CN with C$10·2m for rehabilitation work to enable the passenger service to continue, and the national passenger operator is also to 'hold discussions' with municipalities along the route to see how ridership might be increased.

'The continuity of VIA Rail's Ocean service in northern New Brunswick is excellent news as it will not only benefit the users but also each community along the route by maintain jobs and supporting the local economy', Raitt commented.