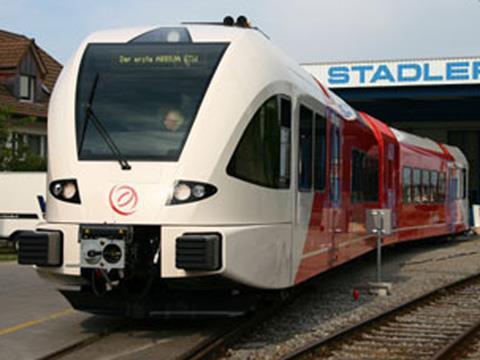 NETHERLANDS: Stadler announced a €140m order to supply Arriva Nederland with a further 38 GTW mul tiple-units on July 2, bringing its orders for the articulated units to a total of 99. Worldwide, Stadler has now sold 539 GTW units to operators in 10 countries.
The latest Arriva order covers 14 electric and 24 diesel GTWs to be delivered from late 2012. The air-conditioned, 75% low-floor units will be a development of the fourth generation of GTW which has been in service with Arriva since 2006.
The contract covers six two-car and eight three-cars electric units for the Zwolle - Emmen route, which Arriva will take over under the 15-year Vechtdal Lines operating contract which starts in December 2012. Stadler says the units will have a 'very high-quality' interior, with a business compartment, tables and a quiet zone. The three-car units will have a conductor's desk in the door area.
The 13 two-car and 11 three-car diesel-electric units are destined for the Rivierenland - Achterhoek concession Zutphen - Winterswijk - Arnhem and Zutphen - Apeldoorn routes. They will feature a newly-developed traction package complying with EU stage IIIB emissions regulations.