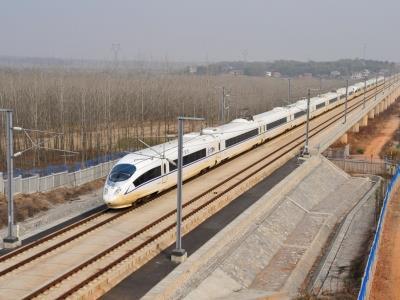 CHINA: Through high speed trains began operating between Beijing and Guangzhou on December 26, with the completion of the 663 km Beijing – Shijiazhuang – Zhengzhou Passenger-Dedicated Line.
Coming exactly three years after the inauguration of the Wuhan – Guangzhou PDL on December 26 2009, and three months after the opening of the 536 km Wuhan – Zhengzhou leg on September 28, the opening of the Beijing – Zhengzhou section forged the final link in the 2 298 km north-south trunk route from Beijing to Guangzhou, on which construction began in June 2005.
The fastest journey times between Beijing and Guangzhou have been cut from more than 21 h by conventional train to 7 h 59 min. Although the line has been designed for 350 km/h, trains are currently limited to a maximum of 300 km/h.
Following a north-south alignment, the Beijing – Zhengzhou section includes major intermediate stations serving the cities of Baoding, Shijiazhuang, Handan and Anyang. As well as trains to the south, the line also carries a high speed service between the capital and Xi'an, thanks to a connection with the 456 km Zhengzhou – Xi'an PDL opened in February 2010.
The longest continuous high speed line in the world now connects Beijing with more than 30 cities, including the provincial capitals at Shijiazhuang, Zhengzhou, Wuhan, Changsha, and Guangzhou, as well as Shenzhen on the border with Hong Kong. The Express Rail Link carrying high speed trains onwards from Shenzhen to Kowloon is due for completion in 2015.
Serving areas with a combined population of around 400 million people, the route is expected to lead to the development of 'city clusters', promoting day trips between adjacent economic zones. Second class tickets between Beijing and Guangzhou are priced at 862 yuan, with first class tickets priced at 1380 yuan and business class at 2 724 yuan. Opening of the high speed line has already seen increased discounting on airline fares between the principal cities.