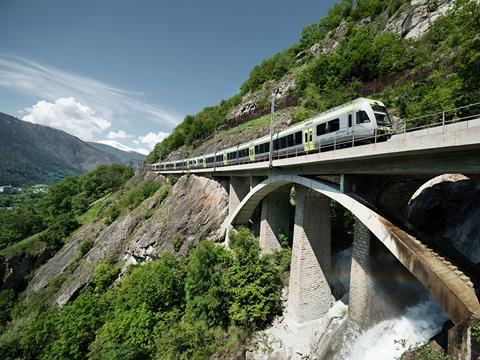 SWITZERLAND: BLS has applied to the Valais canton to take over the car-carrier shuttle service between Brig and Iselle currently run by Swiss Federal Railways, which is not seeking to renew its concession when it expires in December.
If its application succeeds, BLS would operate the service from the December timetable change. It has offered to increase the level of service during holiday periods and on busy summer weekends, switching from the basic pattern of a departure every 90 min to hourly departures on peak days.
BLS would also operate dedicated car shuttle trains rather than SBB's combined passenger train and car-carrying service. The existing BLS car-carrier shuttle between Kandersteg and Goppenstein and the less frequent Kandersteg – Iselle service are not affected.
Having taken over Brig – Domodossola regional passenger services from SBB in December 2016, since July 9 BLS has operated a two-hourly Bern – Brig – Domodossola RegioExpress service.