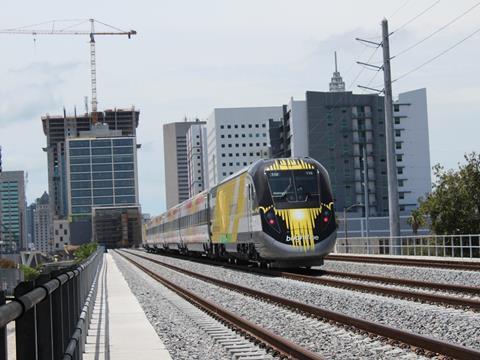 USA: Private passenger operator Brightline announced on September 18 its intention to develop a second inter-city corridor linking Las Vegas with southern California. The Fortress Investment Group subsidiary has agreed to acquire the XpressWest project which holds the rights to develop a federally-approved rail corridor paralleling Interstate 15.
The group had previously indicated its intention to look at inter-city corridors around the country where it could develop a similar model to its initial route in Florida. Brightline currently operates between Miami, Fort Lauderdale and West Palm Beach, with expansion to Orlando as a second phase, and recently announced proposals for further expansion to Tampa. Ridership studies estimate that there are currently more than 50 million trips a year between Las Vegas and southern California by car and air.
The first phase of the new railway would run for around 300 km from Las Vegas to Victorville, with Brightline expecting to offer a journey time of less than 2 h. The railway would be built on a right of way 'within and adjacent to Interstate 15', with no level crossings. Construction is expected to begin next year, with revenue service anticipated in 2022.
As part of the deal, Brightline will acquire 15 ha of land adjacent to the Las Vegas strip for the construction of a station and mixed-use development, mirroring the property projects it has promoted around the new stations in Florida. The station would be located within the resort corridor, providing a major intermodal hub with access to taxis, buses and limousine services. Victorville station would be located within a 30 to 45 min drive of the five million people living in eastern Los Angeles County. Future extensions would provide connectivity to Metrolink commuter services and potentially the California High Speed Rail, opening up access to another 17 or 18 million people.
The new railway is expected to generate major regional economic benefits, including construction and permanent job opportunities and local and state tax revenue.
'Brightline is changing transportation in our country by connecting heavily trafficked corridors that are too long to drive and too short to fly', said Wes Edens, co-founder and co-chief executive officer of Fortress Investment Group. 'Our experience in Florida is proving that private-sector investment has a meaningful role to play in developing transportation infrastructure.'
Nevada Governor Brian Sandoval said 'the introduction of high speed rail between Las Vegas and southern California will bring significant economic and environmental benefits to our state and support increased tourism.'