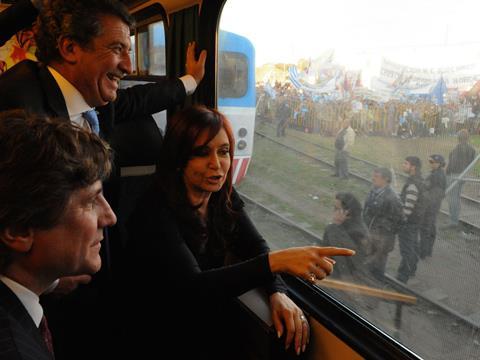 SOUTH AMERICA: President Cristina Fernández of Argentina met her Uruguayan counterpart José Mujica in Salto on August 29, having travelled from Ayuí using the rail link between the two countries across the Salto Grande dam on the River Uruguay, briefly used by passenger trains between 1982 and 1985. The ceremony marked the official launch of a project to introduce regular passenger services between Argentina and Uruguay, which it is hoped will eventually connect the capitals Buenos Aires and Montevideo.
According to the Argentinian government, a regular weekly service over the 813 km between Pilar in the province of Buenos Aires and Paso de los Toros in Uruguay is due to start on September 9. The frequency would increase to three times a week from October and daily from December, with services extended to Montevideo once upgrading of the AFE network had been completed.
Services would initially be operated by Buenos Aires suburban concessionaire TBA using a fleet of 10 ex-Netherlands Railways Class 3200 two-car DMUs. Onboard facilities would include reclining seats, TV and snacks.
On August 26 President Fernández had travelled to Lincoln in Buenos Aires province to mark the restoration of regular passenger services to Realicó in La Pampa. Federal operating company SOFSE is to provide a weekly service over the 259 km route.