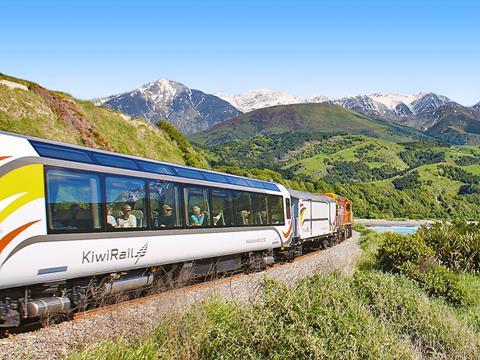 NEW ZEALAND: KiwiRail's tourist-focused Coastal Pacific service from Christchurch to Picton is to restart on December 1, two years after being suspended as a result of damage to the line caused by the 7·8 magnitude Kaikoura earthquake of November 14 2016.
Infrastructure repairs allowed the Main North Line to be reopened for limited freight services in September 2017, with trains running at night to allow repairs to the railway and road to be undertaken during the day. Daytime freight services are also set to resume later this year.
The Coastal Pacific service will run from December 1 2018 until late April 2019, during the southern hemisphere summer season.
'This will be very welcome news for the people of Kaikoura, as the Coastal Pacific plays a critical role in the local economy by bringing thousands of tourists into the area', said Alan Piper, KiwiRail's Group General Manager Sales & Commercial, on August 1.
'Before the earthquake the Coastal Pacific carried about 43 000 passengers into the Marlborough/Kaikoura regions during its summer season. These passengers are estimated to spend almost NZ$35m in the two regions, supporting 300 local jobs.'
Piper said February and March 2018 had been the 'biggest months ever' for the TranzAlpine service on the South Island and the Northern Explorer on the North Island, with business up by more than 10% on any previous year.
'Overall, TranzAlpine passenger business has grown by 90% over the past five years, while the Northern Explorer is up 71%', he said. 'KiwiRail is determined to champion tourism growth across the country, working with national and regional partners to deliver connected journeys and quality tourism experiences.'