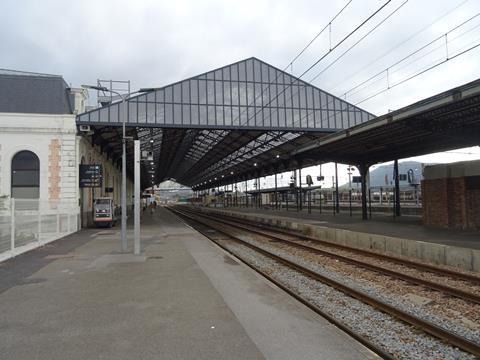 EUROPE: Plans for frequent local passenger services between San Sebastián in Spain and Bayonne in France are being developed by local authorities on each side of the border.
The 50 km long coastal strip has over 350 000 residents, and more who visit in summer, but only 1% of the 3·5 million annual journeys between San Sebastián, Hendaye and Bayonne are made by rail.
On the Spanish side, Euskotren provides frequent metre gauge services to Hendaye while RENFE's broad gauge line carries a Cercanías local service a far east as Irún. The RENFE line is currently being dual-gauged, with work to provide a 1 435 mm gauge route through to San Sebastián currently expected to be completed in 2024.
On French side of the border SNCF offers a mix of local and long-distance services, with just 11 departures from Hendaye on a typical weekday and gaps of up to 2 h between trains.
A study commissioned by the local authorities estimates that the provision of a frequent and integrated 1 435 mm through gauge service between San Sebastián and Bayonne could generate up to 3·5 million new passengers per year. Journey times would be reduced to 54 min from the current best time of 79 min using Euskotren and SNCF services.
The cost of a fleet of EMUs equipped for 1·5 kV and 3 kV DC operation is put at €83m, and a depot would also be required. The annual operating costs of a half-hourly service between 06.00 and midnight is put at €9·4m more than the current services, but fare revenue would increase by €9·8m.