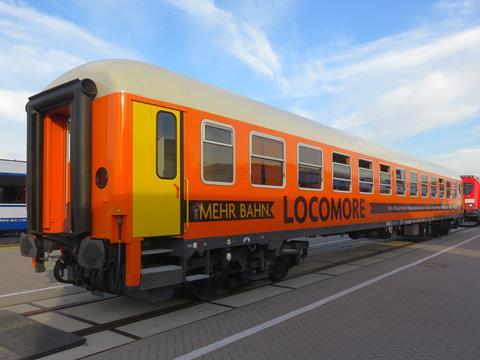 GERMANY: Open access operator Locomore announced on the evening of May 11 that that it had filed for insolvency at the district court in Charlottenburg.
Locomore launched a partly crowd-funded daily return service between Berlin and Stuttgart in December 2016 using refurbished coaches and with a focus on sustainability. It said the number of passengers and revenue per passenger had been growing continuously, 'but not fast enough to be fully cost-effective'. As its financial reserves had now been exhausted, the company filed for insolvency after negotiations with an investor proved unsuccessful.
Locomore said it believed that its presence had enhanced the long-distance passenger market, and it was 'intensively looking' for investors which could save the business. Initial discussions were already taking place, it continued.
The May 12 Stuttgart – Berlin service was expected to run as planned, but passengers were advised to check whether any further services would operate. The company stressed that its train crew were not responsible for the situation, and asked passengers to treat then 'fairly and respectfully' and be understanding if they were unable to answer questions.
Responding to the 'sad news', the Alliance of Rail New Entrants association of open access operators said the new operator had been 'very brave'. ALLRAIL said Locomore had 'provided super service for five months and deserve a great deal of respect for that'.