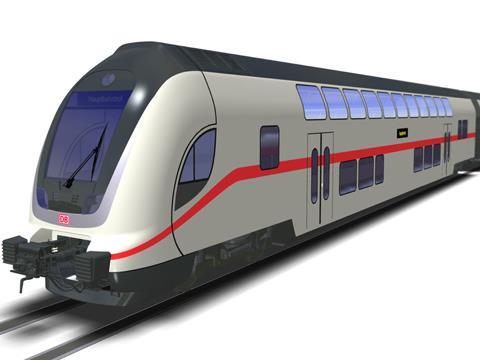 GERMANY: Deutsche Bahn has awarded Bombardier Transportation a €362m contract to supply 137 Twindexx 2010 coaches and 27 Traxx P160AC electric locomotives to enter service from the end of 2013.
While DB Regio uses around 2 000 double-deck cars on regional services, the contract announced on January 12 is DB's first order for long-distance routes. The 160 km/h push-pull trains will offer inter-city levels of comfort, to 'attract new passengers to inter-city routes which currently have lower demand.', according to Ulrich Homburg, DB Board Member for Passenger Services.
Each trainset will have a second class driving car and three second and one first class intermediate cars, providing a total of 469 seats, 70 in first class. There will be carpeted floors, seats with footrests, sun blinds, luggage racks, air-conditioning, power sockets, indirect LED lighting, electronic seat reservations, exterior loudspeakers, mobile telephone signal amplifiers and electronic displays for entertainment and multi-language information. There will be 10 bicycle spaces and multi-purpose or family areas, and the intermediate cars will have two toilets.
The coaches have been ordered under a December 2008 framework agreement, and will be built at Bombardier's Görlitz plant, with bogies from Siegen.
The 5·6 MW Traxx Class 146.2 locomotives are part of a framework signed in 2000 and will be assembled at Kassel, with bodyshells from Wroclaw, bogies from Siegen and electric equipment from Mannheim and Hennigsdorf.
'Together with DB, we are launching a new chapter for double-deck coaches', said Grego Peters, President of Bombardier Transportation's Business Unit Germany & Scandinavia.