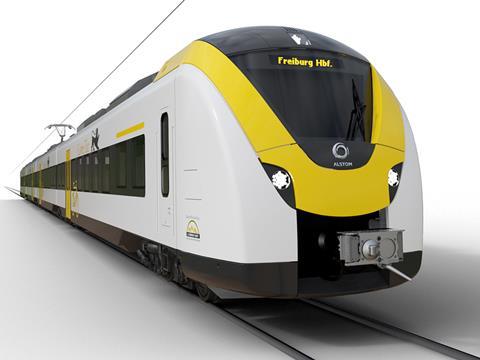 GERMANY: The Land of Baden-Württemberg has formally awarded lowest bidder DB Regio the Netz 9a contract to operate Breisgau-Ost-West regional passenger services totalling 2·9 million train-km/year on routes from Freiburg:
Freiburg – Gottenheim – Endingen/ Breisach;
Freiburg – Titisee – Neustadt – Donaueschingen – Villingen;
Freiburg – Titisee – Seebrugg.
The 12½ year contract is scheduled to start in December 2019, following the planned completion by June 2019 at the latest of the first phase of the Breisgau S-Bahn 2020 upgrading and 15 kV 16·7 Hz electrification programme.
The operating contract will see the price paid which the Land pays for the services fall from €11·69 per train-km to around €8. There will also be an increase in service frequencies, partly supported by Freiburg transport authority ZRF.
The services are to be operated using new three-car and four-car Alstom Coradia Continental EMUs specified by the Land. These will offer more seats than the current fleet, with air-conditioning, wi-fi and larger multi-purpose areas for bicycles and ski equipment, as well as wheel flange lubrication equipment to reduce noise.