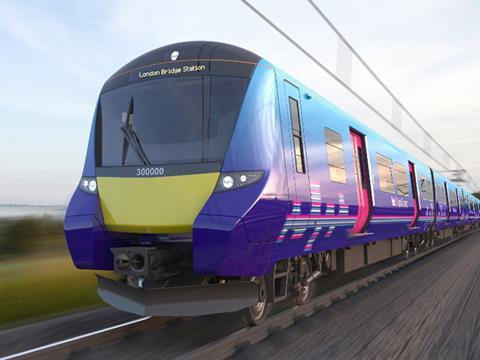 UK: The Department for Transport confirmed on June 14 that it would award the Cross-London Trains consortium led by Siemens a £1·6bn contract to supply 1 140 EMU cars for the Thameslink route, subject to a formal 10-day standstill period.
Cross-London Trains comprises Siemens Project Ventures GmbH, PPP fund Innisfree Ltd and investment company 3i Infrastructure plc; the consortium was named as preferred bidder to build, own, finance and maintain new trains and depots for the £5·5bn Thameslink Programme in June 2011.
Siemens has developed the dual-system 750 V DC/25 kV AC Desiro City EMU capable of carrying up to 1 750 passengers, offering improved passenger communication and easier access for passengers with reduced mobility than the existing fleet. The EMUs will be more energy efficient and also lighter, reducing track wear, according to Siemens, which has also developed the inside-framed SF7000 bogie for the Desiro City.
According to the timescales issued by DfT when the preferred bidder was selected, the fleet is expected to enter service between 2015 and the end of 2018 to match significant capacity enhancement on the Thameslink route. This would increase through suburban services between various destinations north and south of London. The core route between London Bridge, Blackfriars and St Pancras is being upgraded to accommodate up to 24 trains/h in each direction, requiring resignalling with ETCS Level 2 overlaid with automated train operation.