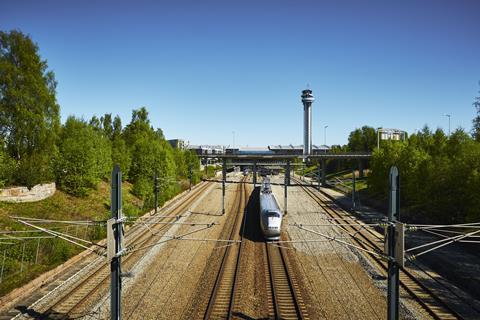 NORWAY: Airport express operator Flytoget has announced its intention to withdraw from the rail market after Jernbanedirektoratet selected national operator Vy to run all regional services in eastern Norway.
The directly awarded Østlandet contract running for 10 years from December 2023 covers all local and regional trains, as well as regional express trains throughout the Oslo area and the southeast of the country.
In line with government instructions in March 2022, the directorate invited both Vy and Flytoget to bid, with a view to splitting the operation between the two state-owned companies. Vy was offered the Østlandet 1 package covering services in the Østfold region and the Gjøvik line, while Flytoget was invited to bid for Østlandet 2 covering the routes from Oslo to Drammen, Larvik, Notodden and Kongsberg, as well as the lines to Kongsvinger and Lillehammer.
However, the Ministry of Transport then announced in January that Vy would be allowed to make a single bid for the entire operation. According to Railway Director Knut Sletta, Flytoget came out better on some parameters in the final assessment, but the price was ultimately decisive. Vy's bid for the combined package was around NKr1bn less over the 10 years than if the two lots had been awarded separately.
Flytoget's acting Managing Director Nicolai Bryde said the company was disappointed by the decision and surprised that it had not been given an opportunity to make a combined bid.
'We believe that both the state and rail travellers are missing out on a long-awaited boost for the Norwegian railways', Bryde said. 'Flytoget made an offer where we proposed a significant improvement of the train service with more frequent departures and making better use of available capacity.'
In the light of the announcement, Flytoget plans to continue operating its existing services to Gardermoen Airport until its current access rights expire in 2028, but then withdraw from the business.
Welcoming the direct award, which is subject to final negotiations, Vy Executive Director Erik Røhne said it would provide 'a more comprehensive train offer for customers in eastern Norway, at a more reasonable cost for society'. Commenting on Flytoget's decision to withdraw, Røhne suggested this would allow a remapping and integration of the two services from 2028 which could open up 'completely new opportunities'.