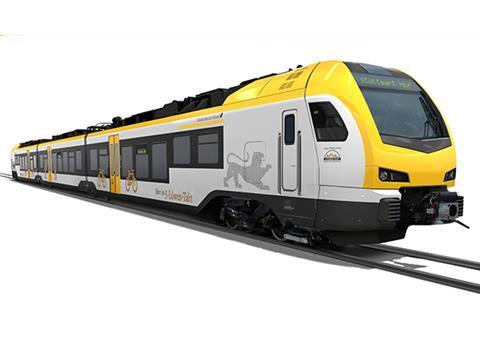 GERMANY: The Länder of Baden-Württemberg and Bayern have selected Go-Ahead as preferred bidder for the Netz 3A Murrbahn contract to operate Stuttgart – Schwäbisch Hall – Hessental – Crailsheim – Nürnberg services totalling 1∙3 million train-km/year for 13 years from December 2019.
Go-Ahead will procure a fleet of Stadler Flirt3XL electric multiple-units for use on the route.
In 2015 Baden-Württemberg selected the German subsidiary of UK-based rail and bus group Go-Ahead for the Stuttgart Netz 1b (Rems – Fils) and 1c (Franken – Enz) operating contracts which are scheduled to start in June 2019.
'We are delighted to now be able to operate on our third network in Germany, and want to win over additional passengers with our high quality operations', said Stefan Krispin, Managing Director of Go-Ahead Verkehrsgesellschaft Deutschland, when the latest win was announced on June 9. 'Once the 10-day objection period has expired, we'll set about discussing details with the awarding organisations as well as the train manufacturer in order to meet the needs of our customers.' He said 'we want to establish ourselves as reliable and conscientious partners in rail transport and evolve into an employer people want to work for.'
On May 31 Go-Ahead signed a contract for Stadler to maintain the 45 Flirt3 EMUs which it ordered in May 2016 for the two Stuttgart contracts. 'The partnership between Go-Ahead and Stadler goes well beyond delivering the vehicles', said Stadler's Christoph Hässig. 'We are looking forward to our long-term co-operation and will do everything to ensure that we support Go-Ahead'.