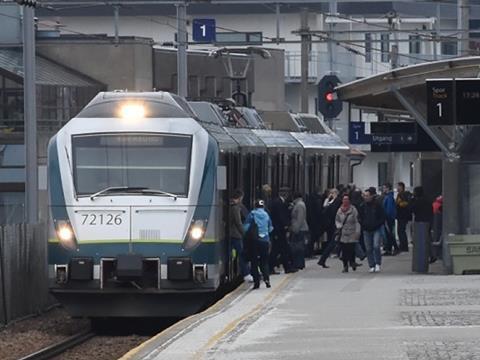 NORWAY: Go-Ahead Norge has been selected as the winner of the Lot 1 Sør passenger train operating contract, the first to be tendered by national railway authority Jernbanedirektoratet.
The contract announced on October 17 will run for eight years from December 15 2019, with an optional two-year extension. It covers inter-city services on the Sørlandet line to Stavanger, Arendal line services and Jær line local services from Stavanger totalling 5·5 million train-km/year.
Jernbanedirektoratet said three bidders had reached the final stage of the competition, with their submissions evaluated on the basis of quality (60%) and price (40%). All bidders achieved a similar quality ranking and all more than halved the subsidy requirement compared to state incumbent NSB's current services. Go-Ahead's financial offer was 21% lower than the nearest rival bid.
Go-Ahead will receive about NKr1·5bn over 10 years, front-loaded with NKr250m required in 2020 but reducing over time; NSB is due to receive NKr486m for operating the three routes in 2018.
Staff will transfer from NSB to Go-Ahead with their current pay and conditions, and Go-Ahead will offer a similar pension scheme. Train interiors are to be refreshed, there will be onboard entertainment, and the new operator is required to work in close co-operation with local authorities and bus operator Kolumbus, including offering through ticketing.
'We are pleased that there were many highly qualified players who participated in the competition, who have made significant efforts to win this contract through the bidding and the negotiation process', said Jernbanedirektoratet Director General Kirsti Slotsvik. 'All the offers we have considered in the final round were very good and there has been strong competition all the way.'
UK-based Go-Ahead operates bus services in the UK, Ireland and Singapore, is a joint venture partner in the TSGN and South Eastern franchises in the UK and has won four rail operating contracts in Germany.
'We are delighted to be given this opportunity to deliver Norway's first contracted rail services', said CEO David Brown. 'This is part of our targeted international strategy. We look forward to working with the Norwegian authorities to bring our international rail expertise and our customer knowledge together to deliver reliable and comfortable local services.'
Go-Ahead's local team in Oslo will be led by Magnus Hedin and Cathrine Elgin. 'Our focus is on customer satisfaction, reliability and local decisions taken with our partners', said Hedin. 'We want to be a local operator who understands Norwegian transport needs and the local Norwegian customers, while benefiting from extensive experience in the UK.'
An analysis of the Norwegian reform and tendering programme appeared in the December 2016 issue of Railway Gazette International magazine, which is available to subscribers in the digital archive.