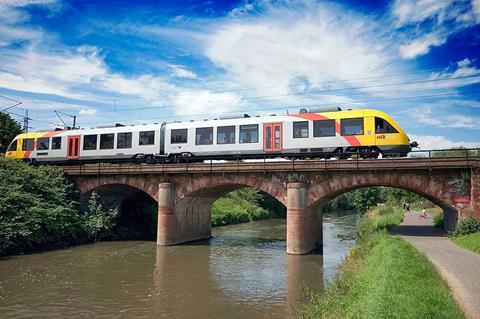 GERMANY: Following a European tender, Rhein-Main transport authority RMV has awarded incumbent Hessische Landesbahn the next contract to operate Wetterau West-Ost passenger services in the area north of Frankfurt.
The contract running for 10 years from December 11 2022 covers services RB46 Gießen – Gelnhausen, RB47 Wölfersheim-Södel – Friedberg – Frankfurt and RB48 Nidda – Friedberg – Frankfurt.
These are scheduled to total 1·596 million train-km in the 2023 timetable year, increasing to 1·834 million train-km/year in the 2026 timetable year and 2·087 million train-km/year in 2027.
There are options for the operation of services on the Lumdatalbahn between Lollar and Rabenau-Londorf and the Horlofftalbahn between Wölfersheim-Södel and Hungen should proposed reopenings go ahead.
RMV said it required the contracted operator's wages to be set at a level which would ensure driving trains was an attractive career.
The services are to be operated using 30 new Alstom Coradia Lint 41 two-car DMUs, which will operate in multiple during the commuter and school traffic peaks. Amenities will include free wi-fi, power sockets and passenger information screens showing connections in real-time. There will be automatic sliding steps at each door, and an accessible toilet.
'This contract is a very important milestone for us because we were able to compete for services that we had previously provided for many years', said Veit Salzmann, Managing Director of Hessische Landesbahn, on February 12.