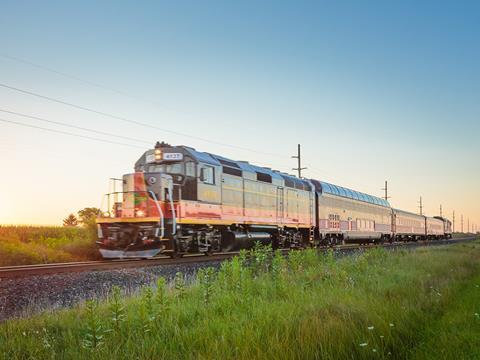 USA: On August 2 the Chicago – Indianapolis Hoosier State passenger service began running under new operating contracts which have been awarded to Amtrak and Iowa Pacific Holdings by the Indiana Department of Transportation and local authorities on the route.
Federal funding for Amtrak services of less than 1 200 km was withdrawn in October 2013, at which point the national passenger operator and INDOT reached an interim 16-month deal to keep the 315 km Hoosier State running while longer-term options were considered.
The service runs four days per week, with Amtrak's Cardinal running on the other three days. Under the new arrangements INDOT aims to improve the service and provide new amenities to make it competitive with driving or bus travel. There will be free wi-fi, and a business class with seats in a dome car and hot meals and drinks included. Amtrak tickets and reservations will continue to be issued.
Amtrak will operate the trains, provide the crews and manage ticketing. INDOT will reimburse Amtrak for costs which are not covered by ticket revenue, and Amtrak would pay the state any excess revenue above this. Iowa Pacific will supply and maintain the rolling stock, market the service and sell food and drink, with INDOT receiving 25% of its operating profit from the service.
INDOT anticipates initially paying a total of $254 527 per month, with the communities of Crawfordsville, Lafayette, Rensselaer, Tippecanoe County and West Lafayette paying a combined $21 194 per month.
The contracts run to June 30 2017, with the possibility of an extension for four more years, and are designed to facilitate future improvements to timetables, service frequency and connecting bus services.