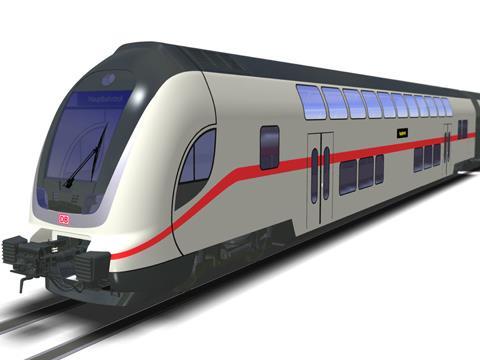 GERMANY: Inter-city operator DB Fernverkehr has reached agreement with Baden-Württemberg to introduce double-deck inter-city trainsets on its Gäubahn route between Stuttgart and Zürich. A fleet of 17 push-pull trainsets will provide an hourly service from December 2017.
In order to free up paths for the enhanced IC service, the Land has agreed that DB Regio can discontinue the current two-hourly Regional Express service between Stuttgart and Singen. Under a contract signed in Böblingen on February 6 by DB Fernverkehr CEO Berthold Huber and the Baden-Württemberg Minister of Transport & Infrastructure Winfried Hermann, the IC trains will also carry regional passengers using local public transport tickets at no additional charge; the Land will make up any loss of revenue.
Despite calling at the intermediate stations currently served by the RE trains, the IC trains will still be able to maintain the existing 3 h journey time between Stuttgart and Zürich. However, the hourly path will change in December 2015 to improve connections in Stuttgart Hbf with services to and from Köln, Frankfurt, Nürnberg and München.
'With this concept we take a major step to improve transport links to the Gäubahn', said Hermann. 'Passengers will benefit from an IC quality train every hour, with better connections to long-distance trains in Stuttgart and Zürich'. However, he pointed out that this could only be an 'interim solution', as a reduction of the end-to-end journey time to 2 h 15 min has previously been agreed with Switzerland.
DB Fernverkehr ordered a fleet of 27 double-deck IC trainsets from Bombardier in January 2011, with the intention that the first would be delivered by December 2013. As well as the Gäubahn, DB plans to use them on the east-west IC service linking Karlsruhe, Pforzheim, Stuttgart, Aalen and Nürnberg.