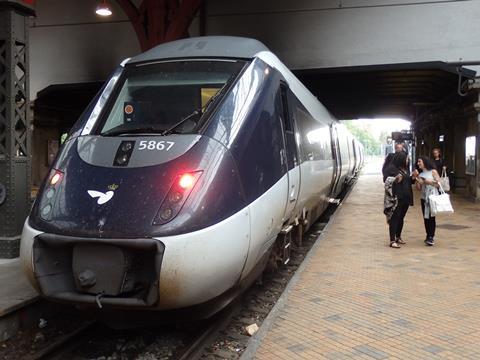 DENMARK: Proposals to order a fleet of 150 electric multiple-units have been approved by the Danish parliament, Transport Minister Ole Birk Olesen announced on February 1. These would replace DSB's troubled AnsaldoBreda IC4 DMUs which are all due to be phased out from 2024 and the older ABB-built IC3 units which are to be retired by 2027.
Total cost of the new trains is provisionally put at DKr11bn, while the whole package including new maintenance facilities would bring the overall budget to between DKr17bn and DKr22bn.
The EMUs are intended to operate inter-city trains across the country's principal main lines following the expansion of 25 kV 50 Hz electrification under the Togfonden DK programme. Contractors Per Aarsleff and Siemens have already completed electrification of the line to Esbjerg, with Fredericia – Aalborg and Roskilde – Kalundborg now underway.
The 'Future Trains' are to be procured under a framework contract to be awarded at the end of 2019, with DSB committing to buy at least 90 trains. The first batch would be suitable for 200 km/h operation, while later versions may be procured for 250 km/h operation on upgraded routes. These will support a proposed long-term timetable recast which envisages a standard 1 h journey time between Denmark's major city pairs.
According to Olesen, the plan envisages the procurement of trains that have already been proven in elsewhere in Europe, in order to avoid any repetition of the problems with the bespoke IC4s. The invitation to tender will include a Full Service Agreement under which the manufacturer would be responsible for all maintenance. The minister said experience elsewhere had shown this offers 'some very big gains' in speeding up commissioning and 'getting the trains running properly', as well as improved reliability overall.
However, DSB's Managing Director Flemming Jensen warned that the full outsourcing of maintenance 'will work if the supplier is doing well but could cause a significant risk if the manufacturer does not do well in the maintenance area'. DSB was concerned that there had been 'no significant experience with this model in connection with major train purchases elsewhere in Europe'. Reworking the tender documents to reflect the 'new policy decision' would add between four and six months to the tendering timescale, he expected.
The government announced last year that it intended to establish an independent state-owned rolling stock company to manage the procurement of around 200 new trains. However, the minister told local media on February 1 that this did not necessarily indicate that DSB would not be responsible for operating inter-city services in future.