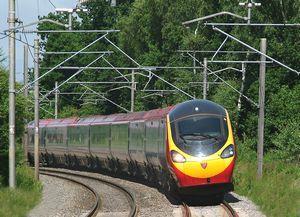 UK: The Department for Transport announced on December 6 that it had agreed terms with Virgin Trains for the continued operation of InterCity West Coast services following the end of the current franchise on December 9.
DfT has been seeking to ensure the continuity of service following the collapse of its refranchising process in October, and the cancellation of plans to award a new franchise to FirstGroup. Having started to mobilise its in-house subsidiary Directly Operated Railways, DfT subsequently dropped this option in favour of negotiating a short-term extension with the incumbent pending the award of an interim franchise.
Under the deal announced on December 6, Virgin Rail Group, in which Stagecoach holds a 49% stake, will run ICWC services under a management contract, with both revenue and cost risk being borne by DfT, in exchange for 'a margin of 1% on revenue'. However, the deal includes a provision for DfT and VRG to agree 'revised commercial terms' under which the operator could take greater revenue and cost risk during the contract period.
The agreement will run for 23 months until November 9 2014, leaving time for DfT to let a new long-term franchise. Plans for an interim franchise have been abandoned following concern from potential bidders and other bodies that it would be neither efficient nor cost-effective. DfT retains the right to shorten the contract period by up to six months 'if a subsequent franchise can be let on a shorter timescale'.
Announcement of the operating contract coincided with the completion of the programme to expand the fleet of Alstom Pendolino trainsets used to operate inter-city services on the West Coast Main Line. Under a government-backed deal agreed with rolling stock leasing company Angel Trains, this has seen the delivery of four new 11-car trainsets and the lengthening of 31 of the existing 52 sets from nine to 11 cars, allowing the operation of '28 000 more seats a day', according to DfT.
Transport Secretary Patrick McLoughlin said 'we are determined to ensure not only that passengers continue to experience the same levels of service they have in the past, but that services improve. There will be a new hourly service linking Glasgow and London and we will also work with Virgin Trains to explore other service improvements.'