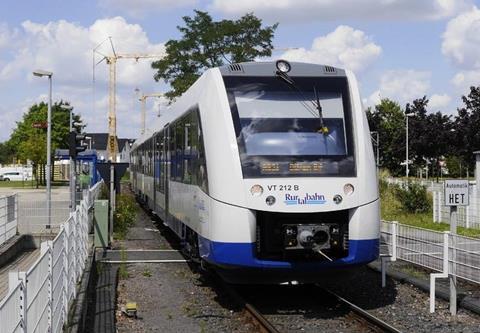 GERMANY: Nahverkehr Rheinland has awarded two contracts for the operation of diesel-worked local passenger services around Düren as interim measure pending a switch to fuel cells or other zero-emission traction.
Both contracts were awarded to incumbent Rurtalbahn and run for four years from December 12 2021.
Infrastructure improvements will enable the Eifel-Bördebahn route RB28 Düren – Euskirchen to be increased from every 2 h to hourly, almost doubling the service to 342 906 train-km/year. The trains will be operated using RS1 diesel railcars.
The RB21 Nord service from Düren to Linnich will be increased by 50 000 train-km/year to 493 250 train km/year. The three Alstom Lint 54 DMUs will be retained, with two RS1 units available as a reserve.
Announcing the contracts on June 7, NVR Managing Director Heiko Sedlaczek said the two agreements were transitional contracts, as the authority's aim is for three local lines centred on Düren, including RB21 Süd between Düren – Heimbach, to be operated by zero-emission vehicles from the mid-2020s, or sooner if possible. Hydrogen fuel traction is currently a focus of studies, he said.