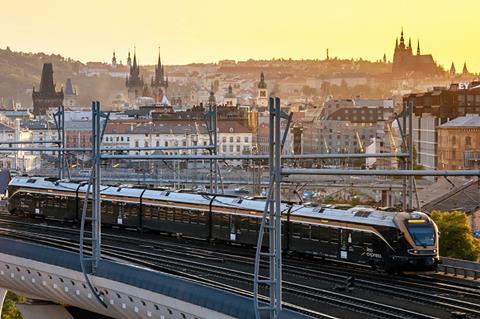 CZECH REPUBLIC: Open access and public service contract operator Leo Express says it is aiming to gain a 'significant' share of the Czech passenger market by 2030, and to launch further services in neighbouring countries.
In 2022 its train and coach services in the Czech Republic, Slovakia, Poland and Ukraine carried almost 1·5 million passengers, and it saw 15% year-on-year growth in consolidated revenues to €22m. Earnings before interest, taxes, depreciation, amortisation and restructuring costs or leases were up by 10% at more than €4m.
Leo Express in 2022
Passengers, train+coach millions
1·5
Trains operated
5 444
Train-km operated, millions
2·3
Revenue, €m
22
EBITDA earnings, €m
4
'Revenue growth shows that customers value Leo Express for its services, which are among the best in long-distance transport in central Europe, especially in the higher classes', said Head of Communications Emil Sedlařík on May 16. 'Leo Express also leads the statistics for punctuality and safety, while offering top-quality catering with delivery to your seat.'
This year Leo Express plans to spend €4m on development and taking on more operating and maintenance staff in the Czech Republic and Slovakia, where it is preparing to take over operation of Bratislava – Dunajská Streda – Komárno services under a Ministry of Transport contract running for nine years from December 10.
From May 18 Leo Express has increased its service from Praha to Katowice and Kraków to three trains per week, and from June 1 it will offer coach connections from Ostrava to Poland on the other days. 'We see a growing interest from travellers in these destinations', said Sedlařík.
Meanwhile, companies joining the operator's corporate travel programme can now benefit from a 5% discount, increasing up to 10% depending on their rolling annual spend; they can offer their employees up to 20% cashback on their personal travel.
The ticket booking process also now alerts staff if a wheelchair user is travelling, eliminating the previous need for the passenger to notify the operator by e-mail. Arrangements will be confirmed no later than 24 h before departure. Leo Express said its low-floor fleet enabled it to be the first Czech long-distance operator to offer such a service.