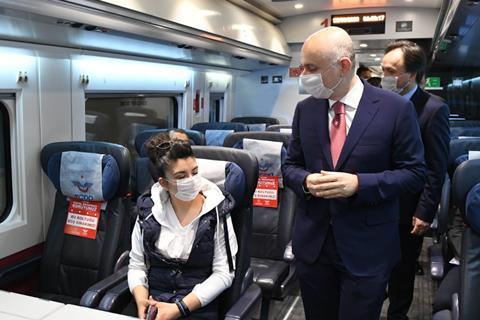 TURKEY: Limited inter-city services on the national network restarted with the departure of a high speed train from Ankara to Istanbul at 07.00 on May 28, the first such train since services were suspended as part of coronavirus lockdown measures on March 28.
Passenger services have restarted on four routes: Ankara – Istanbul, Ankara –Eskişehir, Ankara – Konya and Konya –Istanbul. The Ministry of Transport & Infrastructure said there would be two trains a day in each direction on each route until further notice.
In order to allow for social distancing the trains will operate with every adjacent seat empty. This reduces the capacity of the CAF-built YHT trainsets from 411 to 185 passengers, and the Siemens Velaro trainsets from 483 to 213 passengers.
Each train will include an 'isolation car' for any passengers displaying Covid-19 symptoms during the journey. Having been isolated, these passengers would be removed from the train and passed to the health authorities at the next station.
Tickets are priced as normal, but are only available to travellers between the ages of 21 and 64. People outside that age range are currently barred from travelling.
To enable passengers to be contacted should any other travellers develop Covid-19 symptoms, rail users must supply their date of birth, national identity number and contact details, as well as confirmation of their risk status, when applying for a travel permit using a mobile phone app or SMS text message.
Yüksek Hızlı Tren seferlerimiz, pandemi sebebiyle verilen aranın ardından kontrollü sosyal hayat kuralları doğrultusunda 4 hatta günde 16 seferle yeniden başladı.
Tedbiri elden bırakmadan, adım adım normalleşmeye doğru gidiyoruz. pic.twitter.com/pix44LLyuI

— Adil Karaismailoğlu (@akaraismailoglu) May 28, 2020