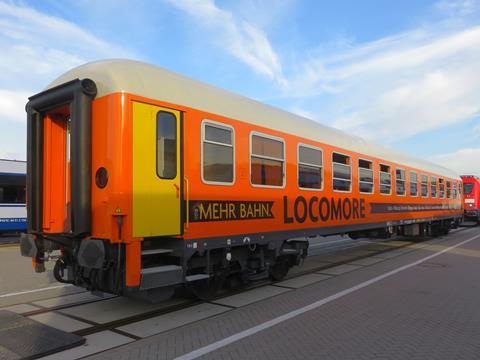 GERMANY: Partly crowd-funded open access operator Locomore announced on August 2 that insolvency proceedings had opened the previous day.
The company said it was still trying to find a positive solution to its problems, but train services would remain suspended 'until further notice'.
Locomore launched a daily return service between Berlin and Stuttgart in December 2016 using refurbished coaches and with a focus on sustainability. However ridership and revenue per passenger did not grow fast enough to be fully cost-effective, and after exhausting its financial reserves and unsuccessful negotiations with an investor, the company announced on May 11 that it had filed for insolvency at the district court in Charlottenburg.
A spokesman for administrator Leonhardt Rattunde said the aim was to 'rehabilitate' the business out of insolvency; it had indicated in June that talks were being held with two 'very serious prospects'. A final decision is expected shortly.