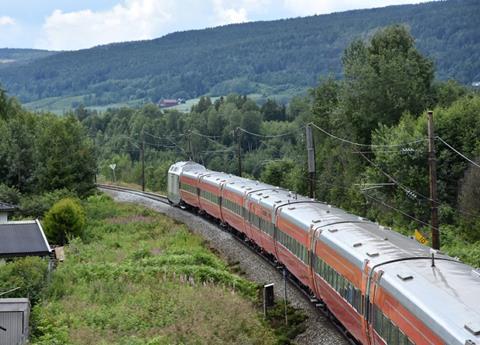 NORWAY: Working with leasing company Norske Tog and infrastructure manager Bane NOR, the national railway directorate has recommended the purchase of a single type of passenger train to replace the country's entire long-distance fleet over the next decade.
Following consultation with train operators, users groups, trade unions and other stakeholders, Jernbanedirektoratet has concluded that 'to ensure a stable train fleet that will handle the demand for long-distance train journeys between regions, it is necessary to purchase new trains'.
In a report issued on October 5, the directorate warns that a large proportion of Norway's long-distance passenger fleet has a limited residual life and at least half needs to be replaced within five years. This includes the Type 7 loco-hauled day coaches and all of the WLAB2 sleeping cars. At present the fleet comprises 13 loco-hauled trainsets and 11 electric multiple-units of varying types, all of which will reach their expected life-span within the next decade.
After considering a number of options, including bus replacement, rebuilding of the current fleet and the operation of longer or more frequent trains, the report recommends that sufficient new stock should be procured to meet a projected increase in demand for long-distance rail travel up to 2035.
Building on a national strategy for long-distance passenger services set out in 2019, the report envisages the operation of a basic two-hourly service on the core routes from Oslo to Stavanger, Bergen, Trondheim and Göteborg. It concludes that the current 24 trains should be replaced by at least 28.
Following a separate assessment of possible night train concepts, the report says 'an approximate doubling' of the sleeping car fleet will be needed to meet the expected demand for overnight berths in 2040. It concludes that the current 20 vehicles, which are fully deployed, should be replaced by 38 new ones including four spares.
The review of long-distance rolling stock follows a decision by Norske Tog to tender for a framework contract for up to 200 EMUs to help standardise country's commuter and regional fleets.