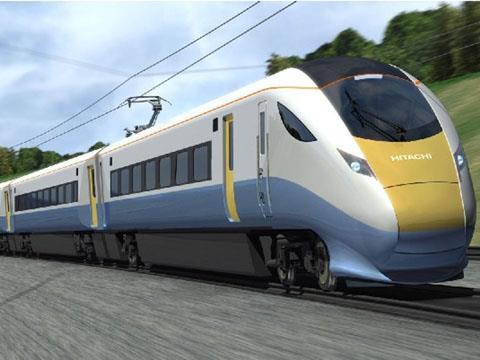 UK: MetLife Inc, a US-based provider of insurance and pensions products, announced on April 4 that it had acquired a minority stake in Agility Trains West Ltd for an undisclosed sum. This consortium was formed by Hitachi Rail Europe and John Laing Investments to supply and maintain a fleet of 369 electric and bi-mode vehicles for inter-city services on the Great Western Main Line between London, Bristol and south Wales.
Under a contract estimated to be worth £2⋅4bn, Agility Trains West will be delivering Phase 1 of the UK government's privately-financed £4⋅5bn InterCity Express Programme, involving the supply of 200 km/h trainsets manufactured by Hitachi as well as new maintenance facilities. The UK government will guarantee use of the new trainsets over a period of 27½ years, and MetLife says that equity investments of this kind provide investment opportunities matching the long-term liabilities that it underwrites through its insurance products.
'This investment in Agility Trains West reflects MetLife Private Capital Investors' growing interest in expanding our global portfolio of direct investment in global infrastructure equity and private debt placements in well-structured, long-term infrastructure assets and projects', said Scott Inglis, global head of MetLife Private Capital Investors. 'Our involvement in the Intercity Express Programme in the UK demonstrates MetLife's ability to partner with strategic and diverse sponsors and investors in competitive transportation and infrastructure sectors'.