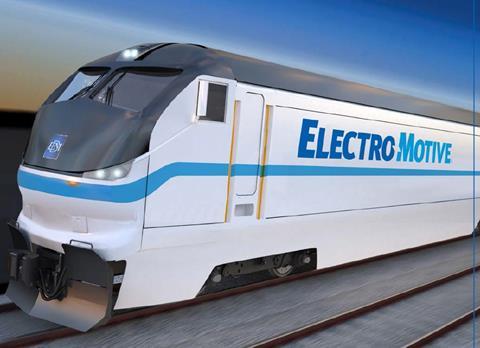 USA: Southern California Regional Rail Authority has signed an agreement for Electro-Motive Diesel to supply 'up to 20' F125 Spirit diesel locomotives for use on Metrolink passenger services.
Announcing the deal on May 31, EMD said it would assemble the locomotives at its Muncie, Indiana, plant for delivery from 2015.
The Caterpillar subsidiary said the F125 Spirit would be capable of operating at speeds up to 200 km/h. The locomotives are to feature a streamlined monocoque body designed by Vossloh Rail Vehicles, with a cab incorporating crash energy management collision protection.
The 4 700 hp Spirit will have a turbocharged, 20-cyclinder 4-stroke Cat C-175 20 diesel engine, AC traction, VRV high-speed running gear and inverter-controlled head-end power.
The locomotives will be equipped for single or multiple operation on commuter or inter-city services. Metrolink is to deploy them with double-deck coaches supplied by Rotem.
EMD said the Spirit would be compliant with Passenger Rail Investment & Improvement Act 305-005 Next Generation locomotive specifications. The supplier said Metrolink is first North American passenger operator to purchase new locomotives designed to meet EPA Tier 4 emissions standards, and the locomotives would reduce emissions by more than 85% compared to the current fleet.
'We are delighted to be working with Metrolink, a visionary agency, and now a leader in the pursuit of new, cleaner operating passenger locomotives', said Billy Ainsworth, President & CEO of Progress Rail Services and Electro-Motive Diesel. 'EMD is pleased to provide Metrolink with the first passenger locomotives designed to meet Tier 4 emissions standards, marking EMD's re-entry into the passenger rail business. We are proud to say we are back, and excited to be on the forefront of passenger rail technology.'
As part of the Spirit locomotive procurement, Metrolink is to donate up to five F-59 locomotives for alternative fuels research and development.