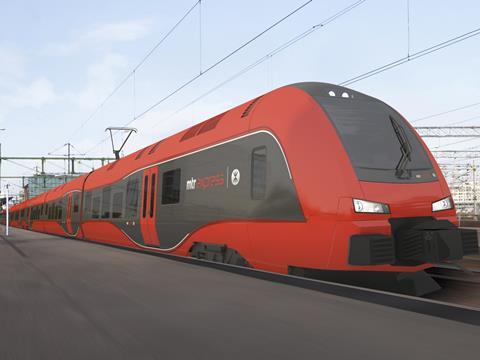 SWEDEN: On April 15 MTR Nordic announced that its MTR Express service between Stockholm and Göteborg is expected to launch in March 2015.
MTR has applied to infrastructure manager Trafikverket for 10 daily train paths in each direction from the start of the 2015 timetable in December; this is one more than it has already been awarded from August 25 2014.
The March launch is slightly later than MTR's original timetable, which had envisaged that services would start later this year. According to local media, the delay is due to national passenger operator SJ not allowing competitors to sell tickets through its SJ.se website, as well as quality assurance issues.
With the first of six Flirt EMUs now taking shape at Stadler's Bussnang plant, MTR Nordic has started recruiting staff to operate the new service. On April 9 MTR Express CEO-designate Johan Söör said that more than 1 200 applications had been received for the initial tranche of 70 jobs, including a significant number of SJ employees.
Another open access applicant looking at starting up services on the Stockholm – Malmö route, Citytåget, has been sold to Skandinaviska Jernbanor, which already runs the business class only Blå Tåget service. Citytåget founder Mattias Söderhielm said the decision to sell was taken in the face of increased competition following MTR's decision to enter the market.