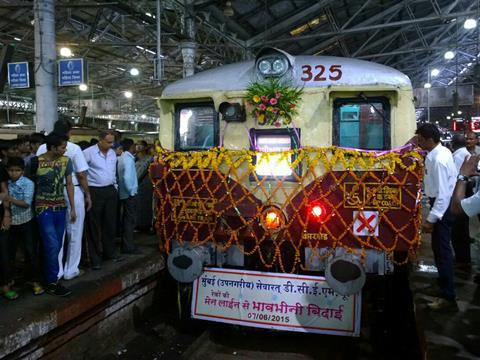 INDIA: Central Railway has announced that 'a historic milestone was achieved' at 05.37 on June 8, with completion of the conversion of the Chhatrapati Shivaji Terminus – Mumbra slow lines and CST – Thane fast lines from 1·5 kV DC to 25 kV AC electrification.
The Mumbai CST – Kalyan route was electrified at 1·5 kV DC under a programme which saw the first section go live in 1925 (RG 1.25 p107). However, Central Railway said the aging system was not able to meet modern power demands, and there was limited space for additional substations.
The blockade of the lines for conversion had been postponed by 24 h at short notice, but Central Railway said the 'smooth and major transition has been achieved without any major disruption or inconvenience to the travelling public'. The total cost of the project is Rs13bn, including the future conversion of the Harbour Line from CST to Panvel.
Central Railway expects the use of AC suburban EMUs with regenerative braking will produce energy savings of 33% compared to the old DC units, with the maximum speed raised from 80 km/h to 100 km/h. Long-distance trains are also able to run through to CST on AC.