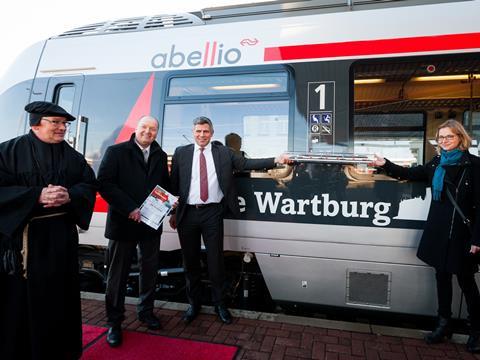 GERMANY: Sachsen-Anhalt transport authority NASA has selected Abellio Rail Mitteldeutschland to operate Dieselnetz Sachsen-Anhalt passenger services for 14 years from December 2018.
NASA is procuring the services on behalf of the Länder of Sachsen-Anhalt, Thüringen and the greater Braunschweig region. The preferred bidder was named on December 14, with formal award of the contracts subject to the 10-day standstill period.
The two contracts cover routes in central Germany totalling 8·6 million train-km a year:
Lot A:
Express 11/21/31 Magdeburg – Halberstadt – Thale/Blankenburg/Goslar, (extended to Berlin on weekends);
Express 4/24 Halle (Saale) – Halberstadt – Goslar;
Regional 43 Magdeburg – Oschersleben.
Lot B:
Regional 35 Stendal – Wolfsburg;
Regional 36 Magdeburg – Wolfsburg;
Regional 41 Magdeburg – Güsten – Aschersleben;
Regional 50 Dessau – Güsten – Aschersleben;
Express 10 Magdeburg – Sangerhausen – Erfurt;
Regional 77 Naumburg (Saale) – Nebra – Wangen.
There are options to adjust service provision to match the future availability of regional funding.
The services are to be operated with a fleet of 52 Alstom Coradia Lint 140 km/h diesel multiple-units, with easy access, an accessible toilet, cycle spaces, power outlets at around half the seats, onboard ticket machines, CCTV, wi-fi and passenger information. Every train will have customer service staff.