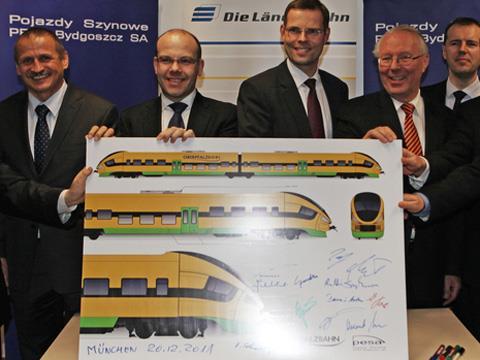 GERMANY: Pesa Bydgoszcz signed deal to supply 12 two-car articulated diesel multiple-units to Netinera subsidiary Regentalbahn on December 20, the Polish company's first contract win in Germany.
The units are scheduled to be delivered between June and December 2014 for use on the Regensburg - Marktredwitz - Schirnding line which Netinera will operate under the Oberpfalzbahn brand from the December 2014 timetable change.
Part of Pesa's Link family, the 120 km/h DMUs will be similar to 31 sets ordered by Czech Railways in April 2011. They will be built in Poland, with German-made 390 kW powerpacks, brake systems, gangways and doors, as well as some components sourced from the Czech Republic.
Total capacity per DMU will be 252 passengers, and they will be meet TSI-PRM standards, including a wheelchair-accessible toilet.