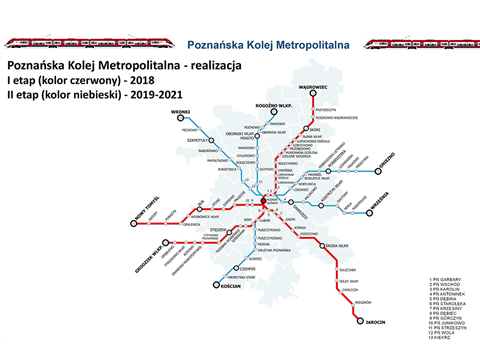 POLAND: The creation of a network of regular local passenger services centred on Poznań is to begin this year, after the local authorities reached a funding agreement in December. Poznań Metropolitan Railway services are to be operated by voivodship-owned company Koleje Wielkopolskie.
The initial phase is expected to launch in the first half of the year, with trains running up to every 30 min on four routes from Poznań to Wągrowiec, Jarocin, Grodzisk Wielkopolski and Nowy Tomyśl.
Services to Rogoźno would be launched in 2019-20, with Września and Kościan added to the network in 2020 and Wronki and Gniezno from 2021.
Wielkopolskie voivodship is to provide funding to cover 40% of the operating costs, with the remainder to be met by the local authorities served by the routes.