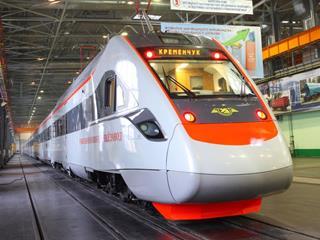 UKRAINE: Testing is underway with the first of two prototype 220 km/h inter-regional electric multiple-units being built by Kriukov Car Building Works for national railway UZ.
The nine-car units are rated at 4 MW, and equipped for operation on lines electrified at 3 kV DC and 25 kV 50 Hz.
The two driving cars have 20 second class seats and all axles powered. There are two first class trailers cars with 64 seats, three second class cars with 94 seats, a third class car with 112 seats and a 47-seat dining car. Onboard facilities include air-conditioning, CCTV and two wheelchair spaces. The stainless steel car bodies are 3420 mm wide, and the axleload is 18 tonnes.
The first unit is based at Kharkiv depot for testing. UZ intends to operate the units at up to 200 km/h on the Kharkiv - Kyiv route.