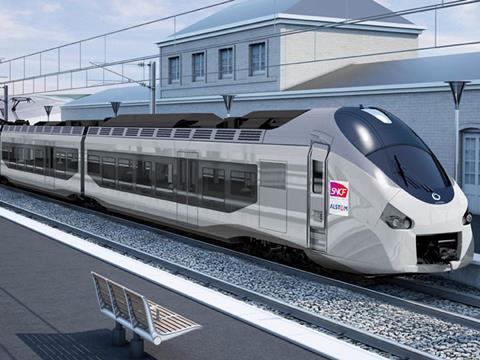 FRANCE: Alstom unveiled its first Régiolis regional multiple-unit to 300 guests at its Reichshoffen plant on June 14, and expects to start running trials with 10 trainsets from the end of June.
Part of Alstom's Coradia Polyvalent product line, Régiolis is a 160 km/h multiple-unit offered in a range of configurations for French regional services. The basic design is a 1·5 kV DC and 25 kV 50 Hz dual-voltage EMU, with options for 15 kV AC to work in Germany and Switzerland or an electro-diesel version.
SNCF signed a framework agreement for up to 1 000 Régiolis units in October 2009, acting on behalf of the regions which are funding them. Firm orders have now been placed for 166 trains to be delivered to 11 regions from March 2013 to mid-2015.
Alstom expects manufacturing under the framework agreement to continue 'for many years', helping to 'sustain dynamic regional economies'. Engineering and assembly is undertaken at Reichshoffen, with permanent magnet motors from Ornans, bogies from Le Creusot, traction drives from Tarbes and onboard computers from Villeurbanne. Around 300 employees are involved in manufacturing the trains, with 'about 600' jobs among subcontractors.